Thursday, November 15, 2018
Archeological diggings move forward in the Historical Center of the city of Camagüey (+Photos)
---
---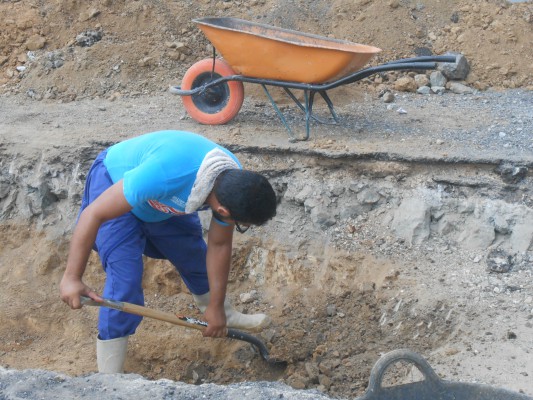 Camagüey, Nov 15. -With the purpose of locating and determining patrimonial evidences of San Francisco church, one of the first religious buildings in the Principeña city, specialists of the historian's office of the city of Camagüey, carry out an archeological digging in the area of José Martí Park, where this hermitage was originally located.
As a result of the studies carried out by Camagüey experts through the use of the radar method, patented by Spanish scientists, it could be determined that less than three meters below the surface of the pavement, there are remains of which could be the foundations of the ancient religious edifice.
It is expected that after lifting two layers of asphalt and a filling stone, they identify some constructive remains of the church, fragments of objects and other elements belonging to the time in which these investigations are based; the project investigators explained.
These studies run as a preliminary step to the International Workshop on Archaeological Studies in urban contexts that the capital city will host next week, promoted by the network of the historian's offices of our country's and Latin American archaeologists.
The archaeological excavation process constitutes a step forward in the efforts of the historian's office to preserve and rescue the material and spiritual values of one of the first villas founded by the Spaniards in Cuba. (Text and Photo: Daylén Fenollar and Alejandro García/journalism students)