Tuesday, February 12, 2019
The world´s largest rag doll was exhibited in Camagüey
---
---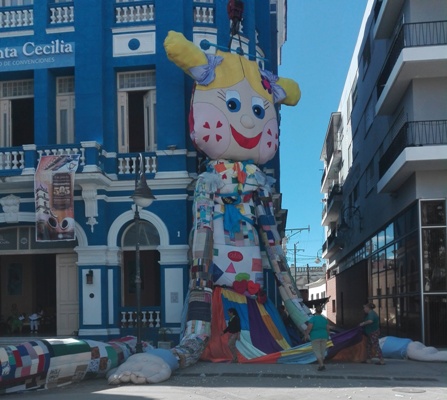 Camagüey, 12 Feb.- The presentation of María Parchitos, the world's largest rag doll, was one of the most attractive events, as part of the celebrations for the 505th anniversary of the former village of Santa María del Puerto del Príncipe.
Handcrafted by those who make up the Carsueños Community Project, the 23-meter-high toy was presented in the central Plaza de los Trabajadores, in the central Cuban city of Camaguey.
During the exhibition, the singer-songwriter Lidis Lamorú and the Arlequín ensemble performed a group from the Office of the Historian of the City of Camagüey (OHCC) to which Culture Week is dedicated, along with the Provincial Concert Band and Adalberto Álvarez, on his 70th birthday and 45th anniversary of his artistic work.
In 2010, the group led by Carmen Soto, National Prize for Community Culture, joined together to produce the Leonor black doll, which became the tallest in the world, and under the inspiration of the tale of the same name that José Martí published in his Golden Age magazine for children. (ACN)