Thursday, March 21, 2019
Diaz-Canel and Ministers Visit Several Places in Havana
---
---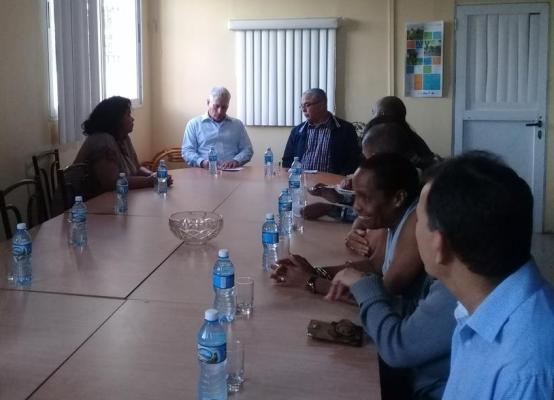 Havana, Mar 21.- The Council of Ministers of Cuba, chaired by the Head of State, Miguel Diaz-Canel, visit several sites in Havana to assess the progress of social and economic programs.
I was announced on Twitter Presidencia Cuba, the President visited the Coppelia ice cream factory, which produces Varadero and Coppelia ice cream for the inhabitants of this city.
Diaz-Canel spoke with executives and workers of the entity and emphasized this food produced there recovers the quality parameters always distinguished it.
The President also visited the Brazilian-Cuban joint venture BRASCUBA Cigarrillos SA, in charge of the production of authentic cigarettes with the selection of the best Cuban tobacco leaves.
Diaz Canel, together with the Havana highest authorities, went to the neighborhood of Jesus del Monte, Lawton, in 10 de Octubre, one of those affected by the tornado last January 28.
In that municipality, the President talked to several families, walked through some of the houses under construction and was interested in their quality.
This is the second visit Diaz-Canel and other leaders and ministers carry out in the country's provinces in the second stage of this working method, which had its first stop in middle March in Santiago de Cuba.
In the case of Havana, the current scenario is marked by activities aimed at celebrating the 500th anniversary of its foundation, on November 16, 2019, and the recovery of the devastating impact of the tornado hitting several municipalities on January 27, such as 10 de Octubre, Regla and Guanabacoa. (Prensa Latina)