Wednesday, May 1, 2019
Workers in Camaguey celebrate May Day
---
---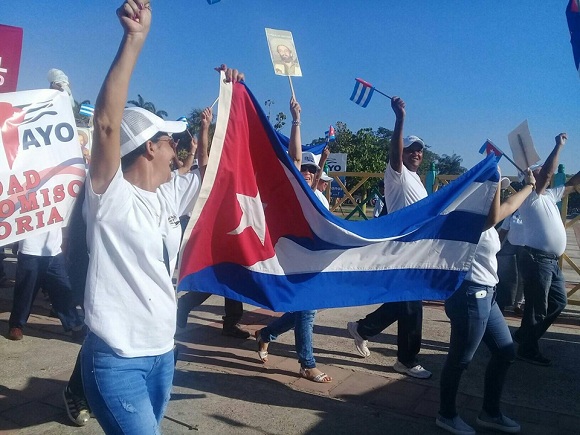 Camagüey, May 1.- As it was 60 years ago, when Camilo Cienfuegos accompanied Camaguey people in the parade for the May Day, and highlighted the importance of unit, workers participate in the parade for the International Workers' Day in support of our socialist project.
The words spoken by Camilo are still very much alive: today, like then, we must be aware of the moment we are living, just when the United States government strengthens its hostility to Cuba and the countries of the region that have focused on the real well-being of the people.
As Camilo said, these are times of unity, we cannot be divided; there times of being together, just as about 200 thousand Camagueyan workers do it today at the Revolution Square Ignacio Agramonte Loynaz.
This celebration will strengthen the unit of Latin-American peoples against the imperialism, and it is an answer to the maneuvers of the White House to isolate Cuba and Venezuela.
The people of Camaguey was accompanied by Marino Murillo Jorge, member of the Political Bureau of the Central Committee of the Cuban Communist Party (PCC) and head of the Commission of the Implementation of the Guidelines; José Ángel Portal Miranda, member of the Central Committee of the PCC and minister of Public Health; as well as the highest political and governmental authorities in the province and the municipality of Camagüey. (RCA)