Thursday, May 16, 2019
Cuban President Visits Important Work in Villa Clara
---
---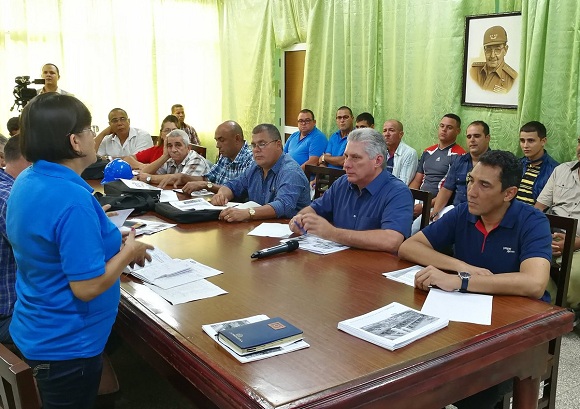 Santa Clara, May 16.- Cuban President Miguel Diaz-Canel Bermudez visited the Cloro Sosa Plant in Sagua la Grande municipality, Villa Clara, central province of Cuba Wednesday.
This industry, the only one of its kind in the country, is distinguished in the production of products used in the purification of water, sanitation of equipment belonging to the food industry and in the manufacture of soaps, detergents and disinfectants.
The President of the Cuban Councils of State and Ministers, spoke with managers and workers about the reconvertion process of the plant that will allow this establihment to use advanced technology, designed to replace the current manufacturing process with the use of metallic mercury.
The new technology will be more efficient, based on an electrolytic process by means of the exchange of ionic membranes.
Diaz-Canel Bermudez, with his presence in this Cuban factory, is currently starting a visit by the Cuban Ministers Council to the central province of Villa Clara, including meetings in the Marta Abreu Central University, Cardiocenter Ernesto Che Guevara and other economic and social local entities in Placetas and Santa Clara, the provincial capital.
Diaz-Canel, in his visit to Sagua la Grande, will tour the Historic Urban Center, characterized by some of its buildings, declared a National Monument in 2011. Distinguished in 2018 as a new tourist destination, it exhibits its majestic Hotel Sagua, the Palace of Arenas and the nautical base in the Isabela de Sagua town.
Sagua la Grande, 52 kilometers north of Santa Clara, is the birthplace of famous artists and scientists. On April 9, 1958, the city rose up on strike against the tyranny of dictator Fulgencio Batista and was held by its people for 24 hours, which was assessed by Commander in Chief Fidel Castro as an indelible page of heroism. (PL)