Tuesday, September 3, 2019
More than 7000 students in the University of Medical Sciences of Camaguey
---
---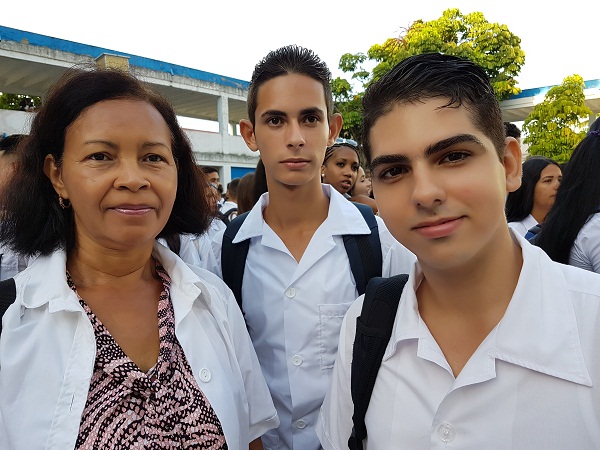 Camagüey, sept. 3rd – More than 7770 students are enrolled in the University of Medical Sciences (UCM in Spanish) Carlos J. Finlay in the city of Camaguey for the new school year.
The university rector, Ph.D. Fidela Reyes Obediente, explained that the number of students will be distibuted among the specialties of Medicin, Nursery, Stomatology and others comprised in the Faculty of Health Technologies.
There are 17 specialties belonging to the short-course modality, while 6 other specialties belong to the encounter course modality in order to ensure the professional growth of health workers, besides offering 15 profiles of average technician for students who have finished 12th and 9th grades.
The University will also enroll secondary school graduates who will become middle-level general technicians in the specialties of Nursery, Stomatology and Epidemiological Monitoring.
According to doctor Reyes Obediente, degrees on Physical Rehabilitation, Electromedicin, Clinical Neurophysiology, Radiology, Nutrition and Pharmaceutical Services will also be offered, among others.
To the universitie's enrollment add 358 foreign estudents of 47 narionalities,with a prevalance of african youths from the Latin American School of Medicine, who will be majoring on Medicin and Health Technologies.
After several efforts in maintenance and repairing,the University of Medical Sciences of Camaguey opens the school year 2019-2020 with a higher level of equipment in the nine labs of Basic Sciences, as well as the ones of language and computing science in the universities'headquarters.
In the municipalities of Nuevitas, Vertientes and Guaimaro there is a better disponibility of teaching aids to carry on the teaching process.
More than 2000 teachers will cover up teaching needs. Uniforms, teaching materials are guaranteed, as well as food and resources for intern students and for work practice in hospitals, clinics, optic services and rehabilitation. (Alex López Almaguer/Radio Cadena Agramonte.) (Pictures by the author)