Friday, September 20, 2019
Díaz-Canel: Camagüey faces the energy crisis with Agramonte's corage
---
---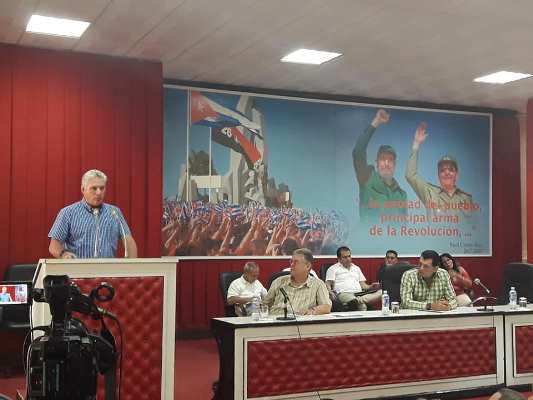 Camagüey, Sept. 20 - The Cuban president Miguel Díaz-Canel Bermúdez, in a visit to Camagüey, said taht the province is ready to face the current energy crisis and get stronger in the process.
Díaz-Canel, accompanied by the first vice president Salvador Valdés Mesa; the commander of Revolution Ramiro Valdés, the minister of Economy and Planning Alejandro Gil, and the minister of Transportation Eduardo Rodríguez Dávila; checked upon the measures implemented in the province in response to te national crisis.
To end the meeting, the Cuban president acknowledged the locals´ ability to deal with the crisis without ever affecting economy and services to the population.
He pointed out that it necessary to go stady on saving energy in order to be more efficient.
The empire is wrong again - he said - ; we have dealt with the problem, we have dusted out measures we shuold have never forgotten. Many actions that contribute to saving and eficiency will be reinforced.
Díaz-Canel also referred to the importance of support given by the people and political leaders to face the crisis.
In that sense, he said that from political leaders we demmand the moral example, austerity, and revolutionary thinking; we have the duty to work hard to protect the people while we can; give top attention to rural areas; ultimately, to care for the people.
The seek for solutions - he added - will make us more revolutionary.
(Sources: Alex López Almaguer/ Portal del Ciudadano Camagüey/ Periódico Adelante) (Photo: Facebook)