Saturday, October 5, 2019
Assembly of People´s Power in Camagüey addresses energy saving measures (+ Photos)
---
---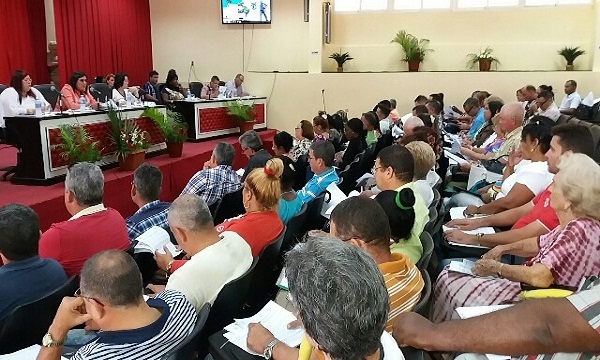 Camagüey, Oct. 5.- Compliance with the measures adopted in the territory to contribute to energy savings and the people´s approaches occupied the attention of delegates, deputies and guests at the XIII ordinary session of the Provincial Assembly of People´s Power in the current term of office.
In the meeting held last Friday, deputy Isabel González Cárdenas, president of the provincial government, highlighted the attitude assumed by the people of Camaguey and their leaders before the national call to face the current energy situation.
In relation to the abovementioned, more than 1,227 decisions taken in 153 entities contribute not only to saving electricity, but also fuels, by reorganizing the entire transportation system, both freight and passenger, which allowed to use available resources efficiently.
Luis Sisto Mora, Vice President of the Provincial Administration, referred to the approaches that fundamentally influence the population´s welfare, among which stand the repair of roads, the electrification of communities, the improvement of hydraulic networks and building waterproofing.
In the ordinary session of the Provincial Government Assembly, the status of compliance with the legal norms that regulate the work in the non-state sector and the positive attitude assumed by those who accept this modality were also reviewed.
With a call to act and think as a country, and assume individual responsibilities to consolidate present achievements, Isabel González Cárdenas concluded the XIII ordinary session of the Provincial Assembly of Government. (Gleibis Gómez Durva and Eric Pacheco Fandiño / Radio Cadena Agramonte.) (Photos: Eric Pacheco Fandiño and Bárbara Suárez Ávalos.)