Monday, October 21, 2019
Camagüey remembers the first combative people´s rally
---
---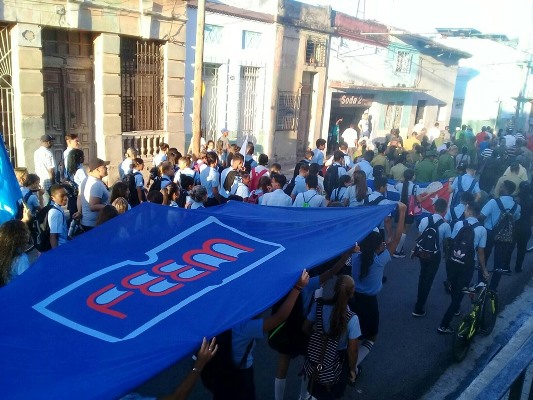 Camagüey, Oct. 21.- The Ignacio Agramonte School District - former Head of Regiment number two Agramonte - commemorated today the 60th anniversary of the first combative people´s rally in Cuba, with the presence of new generations.
Once again the people of Camagüey revived history when six decades ago workers and peasants took the then military fortress without firing a shot, in order to abort the coup intent by traitor Hubert Matos.
Today, during the remembrance of that brave act, a group of High school students received the card that accredits them as members of the UJC and faithful followers of the legacy of Fidel Castro and Camilo Cienfuegos.
http://www.cadenagramonte.cu/images/stories/marcha_pueblo_combatiente.jpg
Fernando Crespo Baró, a member of the Union of Cuban Historians, called on youth to defend their sense of nation and be consistent with the maximum of thinking as a country from school and community.
Liset Bouza Cabrera, president of the Municipal Assembly of Popular Power, together with leaders of the Communist Party, the UJC and members of the Association of Combatants of the Cuban Revolution, accompanied the young revolutionaries of Camagüey, who will never betray Cuban principles . (Text and photos: Yusarys Benito Deliano / Radio Cadena Agramonte)