Wednesday, October 23, 2019
Tourist Industry Workers in Camagüey join the ´Free Lula´Campaign
---
---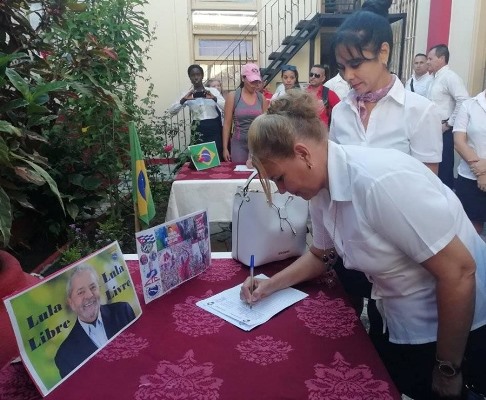 Camagüey, Oct. 23.- Workers from the tourism secotr in Camagüey signed for the release of former Brazilian president Luis Inacio Lula da Silva, and so far more than 700 workers in this sector have expressed their rejection to the criminal process against that leftist leader.
This Tuesday, the staff of the Palmares branch, expressed their support to the global campaign, and as the entity's director, Antonio Saavedra, states, it is a US-backed coup, intending also to plunder the great natural wealth of the South American country.
For Rafael Téllez, a member of the Palmares´staff, "it is our internationalist duty to unite in the defense of such a fair cause", and so it has been reaffirmed by the staff at the Sport Bar, Ocio Club, La Campana de Toledo, the Dimar, the Esperanza Bar, Yesterday and others.
In this regard, Lourdes Morán Fundora, general secretary of the Trade Union Bureau, said that except for those who were working, the rest attended the signature gathering, especially young people, "because our staff is very understanding and knows the need to fight against injustice, as is now the case with Lula".
According to Ismara Acosta Ferrer, general secretary of the hotel and tourism trade union in the municipality of Camagüey, centers such as the Hermanos Gómez Training Center, the Transtur branch, the Comercializadora ITH, the Camping Company and the provincial Tourism office, have joined the campaign as a sign of support to Latin American leaders who suffer political persecution by the United States. (Text and photo: Juan Mendoza Medina / Radio Cadena Agramonte)