Thursday, November 7, 2019
Cuban FM at the UN: the United States is responsible
---
---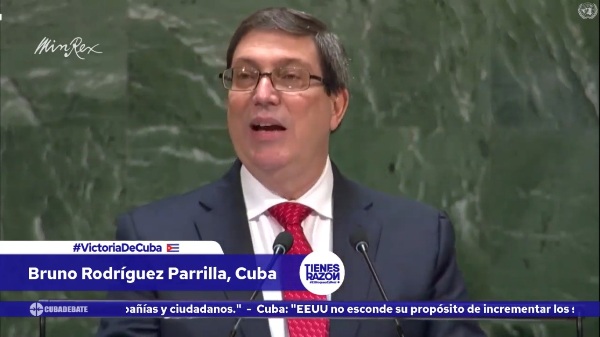 Camagüey, Havana, Nov. 7 - Foreign Minister Bruno Rodríguez Parrilla accused the United States Government before the General Assembly of the United Nations, who in the last year has worsened his hostile policy towards Cuba, with the aim of drowning the country economically and as a consequence, to start political concessions.
During the second day of debate and voting on the report Need to end the economic, commercial and financial blockade of the United States against Cuba, the head of Foreign Affairs referred to the most recent measures approved by the White House - among them: the prohibition of Arrival of cruises to Cuba, the restriction of direct flights to airports in the interior of the country, the cessation of cultural and educational exchanges, the impediment to lease airplanes with more than 10% of US components, among others-, with which does not hide its purpose of causing damage and deficiencies to Cuban citizens.
The US representative then manipulates to this auditorium - said Parrilla Rodríguez - as well as the Universal Declaration of Human Rights in its article 3, which raises the right to life.
The blockade "causes unspeakable human damage, constitutes a flagrant, massive and systematic violation of human rights and qualifies as an act of genocide (...) There is no Cuban family that does not suffer its consequences."