Saturday, November 9, 2019
Cuban president celebrates the release of Lula
---
---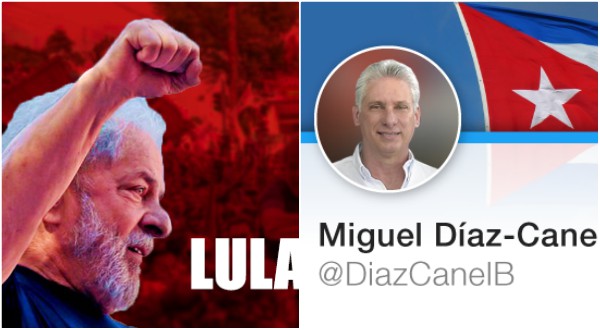 Havana, November 9 - Cuban President Miguel Díaz-Canel said the release of former Brazilian President Luiz Inácio Lula da Silva after 580 days of political confinement is a victory for solidarity.
It is a fact and a triumph of the peoples, of solidarity, of the truth, he wrote on his Twitter account, where he also remarked that the release amounted to the defeat of the imperial strategy and of its lackeys in their attempts to discredit the leader of the Workers Party and the left in Latin America.
"An embrace for the tireless fighter who never lowered the flags of dignity," Diaz-Canel said.
For his part, Cuban Foreign Minister Bruno Rodriguez Parrilla also celebrated the release of the former Brazilian president.
"From Cuba, we celebrate the end of Lula's imprisonment. It is a step forward, but the struggle for his freedom must continue until justice is done. Lula is innocent, a victim of fierce political persecution. Long live #LulaLivre! ," he wrote on Twitter.
Lula da Silva had been in prison since April 7, 2018, and was sentenced to 8 years and 10 months for his alleged corruption and money laundering in the Lava Jato operation. (RHC)