Saturday, November 16, 2019
Intensive Care at the largest hospital in Camaguey: fighting for life and against blockade
---
---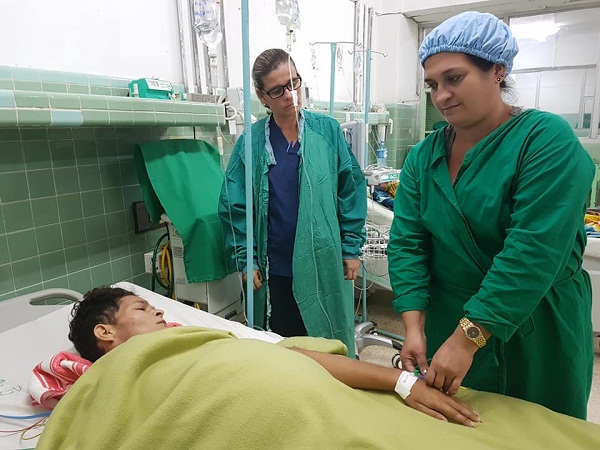 Camaguey, Nov. 16 - For any Cuban press reporter, it is very gratifying to publicize the work, often anonymous, of people who take on society the important mission of saving the lives of those who come to hospitals in critical health conditions.
Today I want to share with you the experience of nurse Jaisells Araújo Capote, who for 20 years has been working in the Intensive Care Unit (ICU) of the Manuel Ascunce Domenech University Hospital.
I arrived at this care area when I was very young, and with the guidance of valuable teachers today I assume the special care of critical patients, says the experienced nurse, who says that in the ICU you have to act very quickly and adopt all possible emergency therapeutic variants to avoid complications that put the patient's life at risk.
Intensive therapy stands out as one of the services with the greatest impact in the hospital´s outcomes, most of the cases we receive have acute infectious diseases, severe neurological symptoms and complications after surgery, or are pregnant women in critical conditions, said Araújo.
Their progress and recovery depends on rigorous medication and the constant monitoring of vital signs, such as blood pressure, heart rate, breathing rate, body temperature and state of consciousness, among others that express the health conditions of the patient, she said.
In spite of daily resource shortages, mostly last-generation antibiotics, in addition to brekdowns on ventilation equipment, thermodynamic, cardiovascular and neurological monitoring, as a result of the US blockade against Cuba, the hospital staff works to achieve better health indicators.
This area currently shows a very low mortality rate, mainly due to the proper management of critical patients and the high level expertise of doctors associated with that medical profile.
Since its inception, the ICU is considered a forge of professionals from other provinces, such as Las Tunas, Ciego de Ávila, Guantánamo and Santiago de Cuba, in addition to Camagüey, who guarantee free care to patients in a service whose cost in developed countries is round between 800 and one thousand dollars, for concepts of treatment and hospital stay.
Acting as quickly as possible, assuming the safe diagnosis and without improvizing to make the appropriate procedure, is the goal of the medical staff working in the Intensive Care Service of the Manuel Ascunce Domenech University Hospital in Camagüey. (Text and photo: Alex López Almaguer / Radio Cadena Agramonte.)