Wednesday, November 20, 2019
Pharmaceutical staff acknowledged in Camagüey
---
---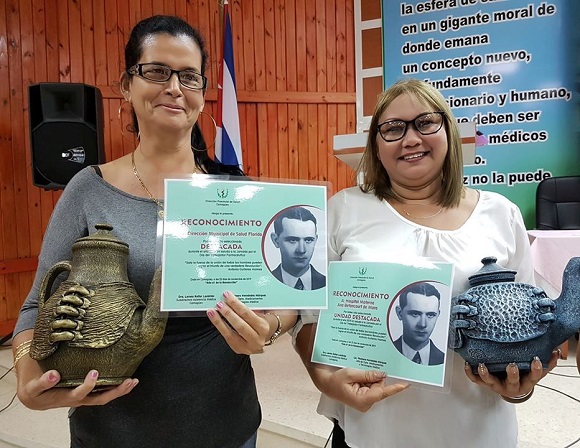 Camagüey, Nov. 20.- Professionals and institutions with a laudable performance were recognized during the provincial act for Pharmaceutical Workers' Day, next November 22nd.
In the Manuel Ascunce Domenech Hospital, in the city of Camagüey, an institution with positive outcomes in care work, men and women with a relevant career in the sector for more than 20 and 25 years received the Manuel Piti Fajardo Distinction.
In that context, the base business units of Florida and Esmeralda, the Marie Curie cancer hospital and the Ana Betancourt de Mora maternity hospital were stimulated on the excellence of their pharmacy services.
Likewise, doctors, nurses and pharmacists who provided solidarity support in Venezuela, Bolivia, Angola and Haiti as part of the Comprehensive Health Program, the Barrio Adentro mission and Operation Miracle, received the Internationalist Worker Medal.
The celebration takes place in the context of the improvement of the Program of medicines and pharmaceutical services, whose purpose is to improve the quality and satisfaction of the population in the province of Camagüey, which currently has 147 pharmacies, 12 opticians and two drug production centers, one in Nuevitas and the other in the provincial capital.
Maintenance to units of the community pharmacy network, the enlistment of drug production lines in the local processing centers and the development of innovations are issues that also distinguish the work of the more than 1,300 Pharmacy workers in the territory.
Every November 22, the Day of the Cuban Pharmaceutical Worker is celebrated, on the occasion of Antonio Guiteras Holmes´ birth, a leading revolutionary and scientist, who dedicated his efforts to the development of Cuban Pharmacy. (Text and photo: Alex López Almaguer / Radio Cadena Agramonte.)