Tuesday, December 3, 2019
Exhibition on Carlos J. Finlay donated by UNESCO arrives in Camagüey
---
---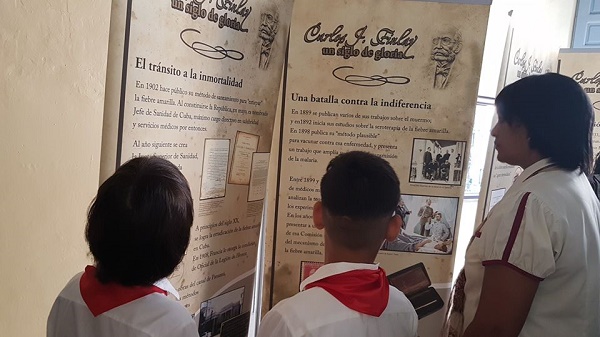 Camagüey, Dec. 3 - The exhibition Carlos J. Finlay, a century of glory was inaugurated today, on the Latin American Medicine Day, in this city, starting the day dedicated to Cuban Science.
Exhibited for the first time in Paris, the exhibition, organized by UNESCO, was donated to the Ministry of Science, Technology and Environment (CITMA), who decided to deliver it as a permanent fund to Carlos J. Finlay´s birthplace, socio cultural institution belonging to the Office of the Historian of Camagüey.
Liosha Arias Artiles, head of the Department of Environmental Supervision and Control of the CITMA Camaguey delegation, opened the exhibition that includes part of the life and work of the eminent local doctor, discoverer of the transmitter of yellow fever.
Previously, contests and a gathering with students from the University of Medical Sciences, named after the local doctor, were held.
In honor of the scientist born in the former Puerto Principe, Latin American Medicine Day is celebrated, a date that in Cuba honors doctors, life savers inside and outside the national borders.
Likewise, hundreds of health professionals are trained here every year at the Latin American School of Medicine, another example of the solidarity of this proud island. (Dania Díaz Socarrás / Radio Cadena Agramonte) (Photo: Miozotis Fabelo)