Tuesday, January 14, 2020
Electric Worker Day celebrated in Camaguey
---
---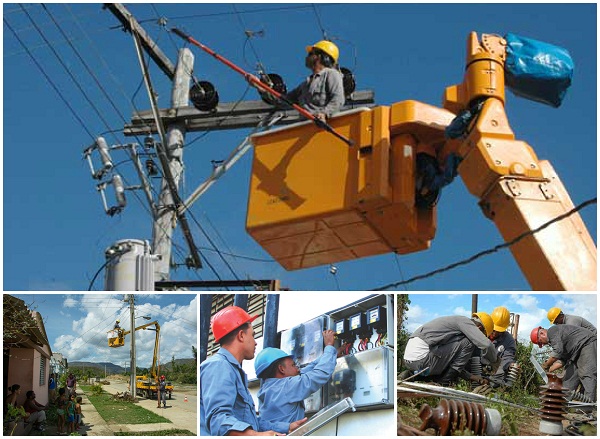 Camagüey, Jan. 14.- The workers of the Electric Company celebrated their day today, with significant results in the electrification of settlements and agricultural poles, the elimination of electric layouts and the completion of two photovoltaic parks.
The ceremony took place in the Principal Theater of the city, men and women with 20 and 25 years of uninterrupted work in the sector received the Ñico López distinction, granted by the National Trade Union of Energy and Mines Workers.
Pedro Delgado López, general director of the aforementioned entity, said that in the face of the resurgence of the US blockade, technological innovation must be implemented to advance the priority programs and alternative energy generation projects.
When evaluating the results in the emulation for July 26 during the year 2019, the Nuevitas Base Business Unit (UEB) was recognized for the first time in a row, followed by those of the municipalities of Florida and Carlos Manuel de Céspedes.
The celebration highlighted the trajectory of Ignacio Agustín Velazco Sayú and Jorge Faustino Sardiñas Ulloa, both with 50 years of uninterrupted work at the UEB Operating Center.
The group of workers of the Camaguey Electric Company also stands out for the installation of modules of photovoltaic solar panels, the operation of the Youth Technical Brigades and the Metrocontadores Laboratory, which annually assumes the review of around 45,000 equipments.
To promote the economic development of strategic areas, four photovoltaic parks synchronized to the National Electroenergetic System operate in the province, located in the municipalities of Sierra de Cubitas, Minas and Camagüey, with a combined power of 6.9 megawatts.
The Day of the Electrical Worker is celebrated in Cuba every January 14, as a tribute to the young revolutionary Antonio Guiteras Holmes, who on the same date in 1934, intervened the so-called Cuban Electricity Company. (Maykel Torres La Rosa / Radio Cadena Agramonte.) (Photo: Archive)