Wednesday, March 25, 2020
First patient in Cuba recovered from Covid-19 is discharged
---
---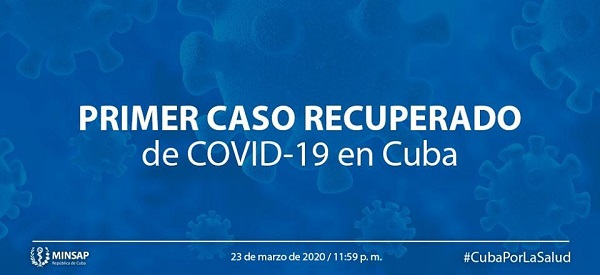 Havana, Mar 24.- Cuba announced today the first discharge of a recovered patient after testing positive for Covid-19, it was reported in a press conference to update the situation in the country.
This is a 25-year-old Cuban citizen, resident in Villa Clara, diagnosed with the disease on March 16, husband of a Bolivian woman who had returned from Italy; both went to the hospital with respiratory symptoms.
From that moment, the surveillance system was activated and the two were admitted to the military hospital of that central province, for their subsequent transfer to the Pedro Kourí Cuban Institute of Tropical Medicine (IPK), in Havana.
After the rigorous tests, the patient tested positive for Covid-19 and after days he maintained a favorable evolution, according to official reports.
The discharged patient continues to be admitted at home for 14 days, under daily medical supervision. This Monday in Mesa Redonda the discharge of some patients was reported, including foreign tourists for whom their transfer to their countries of origin is already planned.
Cuba reports 48 positive cases, two in critical condition and one serious, while 1,229 people remain hospitalized, of which 531 are suspects, as part of the epidemiological surveillance and control implanted in the country to prevent the spread of the disease. (PL) (Photo: Taken from the Fb profile of MinsapCuba)