Saturday, March 28, 2020
119 cases of Covid-19 and a third deceased confirmed in Cuba
---
---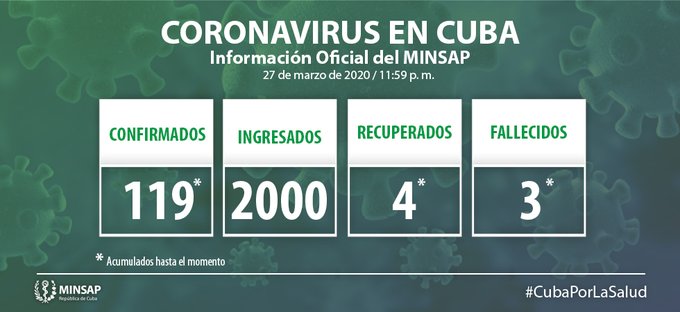 Havana, Mar 28.- Last part sent by the Ministry of Public Health: In Cuba until March 27, 2000 patients are admitted for surveillance, in the isolation and care centers created for this purpose; 140 of them foreigners and 1,860 Cubans. Another 31,347 people are monitored in their homes.
329 cases were studied yesterday, to which 39 samples were positive. The country accumulates 1,368 samples and 119 of them resulted positive.
Therefore, yesterday, 39 new cases of COVID-19 were confirmed, totaling 119 in the country.
Of the 119 patients diagnosed with the disease, 108 are stable. Three deaths, four discharges and one returned to his country are reported.
The 52-year-old Cuban citizen from Remedios, Villa Clara, who was admitted to the "Manuel Piti Fajardo" Hospital died in the early hours of March 28, at 2:15 am. He had a background of diabetes mellitus, hypertension arterial and chronic lung disease. In the early hours of today, he presented a sudden respiratory distress, so he had to be ventilated. He did not respond to the maneuvers carried out and died. We convey our deepest condolences to family and friends.
One patient in critical condition and other two in serious state are also reported.
The 38-year-old Cuban citizen, admitted to the Military Hospital in Camagüey, after 13 days of evolution, was reported of "care".
Yesterday, the first local transmission event in the province of Matanzas was confirmed, based on one of the cases diagnosed on March 21 and, whose source of contagion was a group of italian tourists. 53 contacts were identified, 23 of them reported as suspicious cases, 19 were negative and 4 positive. Thirteen patients are kept in the hospital.
To date, 174 countries are reported (+1) with cases of COVID-19 with 528,025 confirmed cases (+60 315) and 23,672 deaths (+2725) for a fatality of 4.48%. Reporting local transmission 125 countries.
In the Americas region 100,173 confirmed cases are reported, 18.9% of the total cases reported in the world with 1519 deaths for a fatality of 1.52%.
Outside China, 445,946 are reported with 20,374 deaths for a lethality of 4.45%. (Text: ACN) (Photo: Granma.cu)