Monday, March 30, 2020
Cuba reaches 170 positive cases for COVID-19, Camagüey without changes
---
---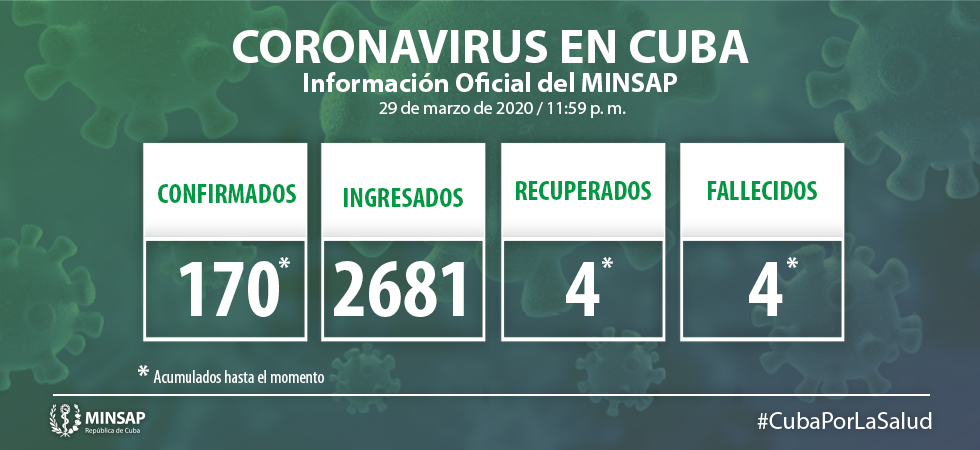 Havana, Mar 30.- Until yesterday, in Cuba, 2,681 patients are admitted for clinical-epidemiological surveillance, in the isolation and care centers created for this purpose; of them 91 foreigners and 2,590 Cubans. Another 29,885 people are monitored in their homes.
For COVID-19, 342 cases were studied, 31 samples being positive. The country accumulates 2,700 samples made of which 170 were positive. Therefore, 31 new cases were confirmed, totaling 170.
Of the 31 confirmed cases, 29 Cubans and two foreigners, a 4-year-old American child who staying at his grandparent´s in Bayamo, and a Chinese citizen who works in the Mariel Development Zone.
Of the 29 Cubans diagnosed, seven got the disease from abroad: the United States (2), Mexico (2), Spain, Panama and France (one each). The other 22 were infected in the country, being contacts of foreigners, Cubans coming from abroad or secondary cases related to foreigners.
The second Covid-19 local transmission event opens in the country, in the "Camilo Cienfuegos" Community, Consolación del Sur Municipality, Pinar del Río Province, from a couple from Cancun, Mexico, with a total of five confirmed cases, three of them secondary.
The 63-year-old patient, a resident of the Venezuela municipality, Ciego de Ávila, with a history of diabetes mellitus and high blood pressure died. He was the contact of two travelers from Spain, who arrived in the country on March 12. In the investigations carried out, he denied the presence of symptoms. On the 28th he went to a medical consultation with severe acute respiratory symptoms. He was admitted to the Hospital "Dr. Antonio Luaces Iraola "from Ciego de Ávila. He died at 6:00 pm under a hypoxic clinical picture with cyanosis and cardiorespiratory failure.
We convey our deepest condolences to his family and friends.
As of March 29, 174 countries are reported (+1) with cases of COVID-19 with 657,140 confirmed cases (+65,179) and 30,451 deaths (+3,361) for a fatality of 4.6%.
In the Americas 147,752 confirmed cases are reported, 22.5% of the total reported cases in the world with 2,543 deaths for a fatality of 1.72%. (Text and Photo: salud.msp.gob.cu)