Tuesday, May 5, 2020
Cuba: ETECSA applies new measures and payment rates
---
---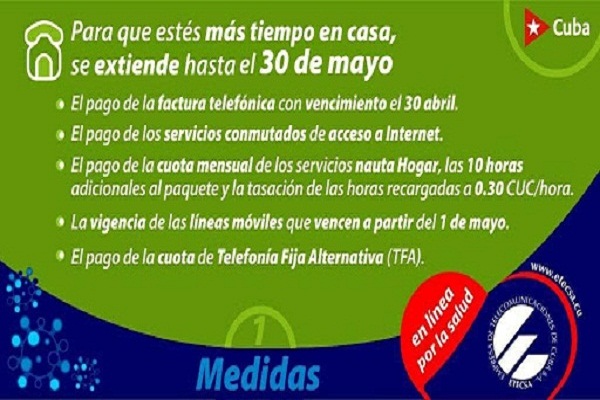 Havana, May 5.- The Cuban Telecommunications Company (ETECSA) announced new measures that include the extension of the payment period for services, with the aim of contributing to social isolation to face Covid-19.
From its official Twitter profile, ETECSA reports that the payment rates whose due date was last April 30, will last until May 30.
It includes the payment of the switched Internet connection services, as well as the validity of mobile service expiring on May 1 and the 50% discount on data consumption.
The 25% discount for national calls using Propia cards from 6:00 pm to 10:59 pm is maintained, and the 10 % discount to payments carried out through Transfermóvil.
To this is added the 50% discount to national calls during daytime, due to the need of the population to establish communication with family and friends throughout the country during this period of social isolation. (ACN) (Image: File)