Tuesday, July 21, 2020
DOVEL: necessary support to construction in Camagüey
---
---
By Dayessi García Sosa / Radio Cadena Agramonte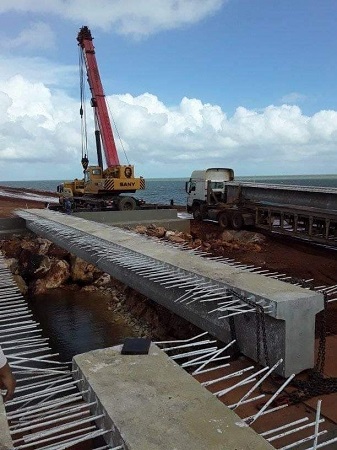 In several construction works are the staff of the General Contractor Company of Works of Camagüey (DOVEL) during this 2020, who have had the purpose of achieving leadership in the preparation services and technical consultancies, through the integrated management system and the high level of preparation of its professionals, in order to reflect that strength in the quality of investments.
The deputy director of the entity, Kendry Alonso Peña, assured that the modernization that is carried out in the Cement Company "26 de Julio" in the municipality of Nuevitas is one of those main constructive actions due to its great economic impact at the national level.
DOVEL also provides topography services in civil construction works, as well as carrying out feasibility studies, which allows for greater scope and social recognition in that branch.
Furthermore, architect Yurisniel Hernández Romero, head of "Unit 3" of that institution, reported that during the Covid-19 stage the execution of the projects was maintained, without neglecting the rigor of the sanitary measures; and at the same time, the quality system implemented in each work was complied with and endorsed at the end of them.
Likewise, maintenance is provided in the hemodialysis water treatment plant belonging to the Nephrology room in the Provincial Hospital, in addition to other repair and electricity works; and the Politrauma room will be moved to a separate area on the first level, where it expands the capacity to 15 beds, and will benefit from the placement of raincoats on the deck and walls, with the aim of avoiding humidity in that hospital center.
Subordinated to the Construction Design and Engineering Business Group (GEDIC), this local company performs a significant group of technical tasks essential for the administration and execution of works in the territory, taking into account the protection of the environment and compliance with quality standards. (Author's Photos)