Friday, July 24, 2020
26th of July: date of proud for Camagüey
---
---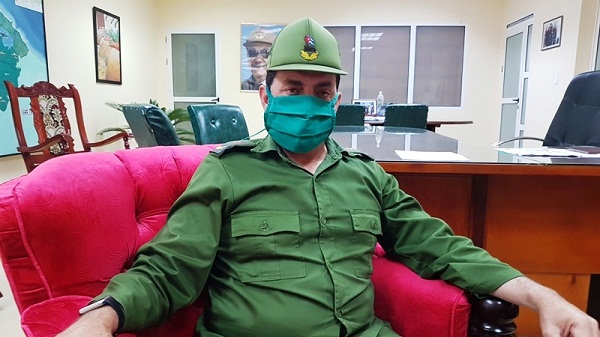 Camagüey, Jul 24.- In the midst of the intensified blockade against Cuba, and under the conditions imposed by Covid-19, the people of Camagüey are working to improve the health and the economy spheres, both great challenges in the current stage.
The President of the Defense Council of the province of Camagüey, Ariel Santana Santiesteban, acknowledges that "despite the limitations, the unity of the people and of all organizations is perceived in the search for alternatives that allow us to produce more, boost the economy and be more efficient.
In other strategic sectors, housing construction and sugar cane recovery stand out, while the next sugar harvest is being prepared.
Santana Santiesteban, when evaluating work done before Covid 19, and the transition to the new normality, acknowledges that "these months have been intense, looking for alternatives; and above all, cohesion has prevailed among all the organizations that make up the Defense Council.
"In the third phase of recovery that we started, a group of measures have been adopted, which will allow us to guarantee the sustainability of what has been achieved in health and epidemiological control.
"At this stage, other priorities are in the substitution of imports, the increase in exportable items, savings and efficiency in all sectors; linking science and technology to all activities; give more quality of life to the people; and that the province continued to develop and advance."
With regard to the celebration of the Day of National Rebellion, the people of Camagüey takes initiatives, and various actions are to be carried out in neighborhoods and communities.
"We have to commemorate this historic date, even in the midst of limitations; and in several municipalities, more than 500 facilities are inaugurated, mainly intended to provide services to the population; and new homes will be delivered to local families.
"We have organized productive work, and especially on the 25th, 26th and 27th, we will carry out political activities, in recognition of outstanding groups and workers, and community actions will be promoted that allow young people and the entire town, without neglecting the sanitary measures established, celebrate this historic date in every corner of Camagüey". (Text and photos: Miozotis Fabelo Pinares / Radio Rebelde Correspondent)