Tuesday, August 4, 2020
University of Camaguey contributes to training of qualified personnel for educational sector
---
---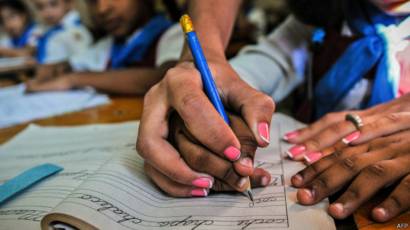 Camagüey, Aug 4.- The Nicolás Guillén Batista Pedagogical School, in this city, plans to graduate 250 new teachers for elementary school in the current school year, which represents a valuable contribution to the sector in the territory.
Once the teaching activities restarted in September, interrupted by the Covid-19, fourth year students will be incorporated into their practices for three weeks and in the fourth they will complete their degree.
Idalberto Reyes Porro, director of the institution, pointed out that his graduation is planned from October 12 to 17, as they have guaranteed the conditions for the development of curricular tasks in the rest of the years, and with a view to the next calendar, readjusted for the month of November.
The 74 English teachers of 33 Primary school teachers, graduates from the Pedagogical School, together with those who finished military service, mean a favorable prospect that will improve teaching coverage and in turn allows progress in the sector.
The institute belonging to pre-university education projects an enrollment of 600 future teachers in the academic year 2020-2021, in the 12 specialties studied there.
At the same time, it constitutes a source of direct income to the University of Camagüey (UC) Ignacio Agramonte Loynaz, since it offers the possibility for middle-level teachers to obtain their degree, which has an impact on higher professional quality.
The first university created in Cuba after the triumph of the Revolution, in the current academic period titled more than 500 new teachers, 294 of them in the specialties of Primary and Preschool Education, graduated from Municipal University Centers. (ACN) (Photo: File)