Wednesday, August 5, 2020
Camagüey guarantees supply of first necessity items
---
---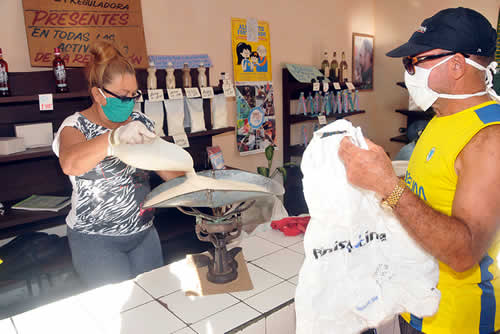 Camagüey, 5 Aug.- This province guaranteed to the more than 900 wineries in the territory during the month of July the distribution of food and hygiene products to the population, mainly to the most vulnerable groups.
Yamilka Palomino Gómez Commercial Director of the entity of the Wholesale Company of Food Products in Camagüey stressed that before the end of each period they have deposited the basic family basket regulated the following month.
An additional pound of chicken per capita was distributed to vulnerable age groups in July for children ages 0-13 and adults 65 and older; For people ages 14-64, a half pound of additional sausage was also met.
Two and a half pounds of additional rice will be distributed to all consumers this month, reaching 10 pounds and six ounces of beans this month, in addition to the ten ounces of peas that are already being delivered to the population.
The distribution of an additional pound of chicken per capita will also be maintained for vulnerable age groups.
The people of Camagüey appreciate the significant efforts to bring the people and food of basic necessity closer and secure to the people in an equitable manner.
According to Michel Amodia Ferer, deputy director of the Business Group of Commerce, the products that due to the supply levels do not support an equitable distribution to the total population, are destined for the age groups of children and people over 65 years old, selling controlled and at prices without subsidies, another of the efforts made by the Cuban state to guarantee the welfare of the people.
In this period, in addition to the products of the standard family basket, the distribution of soaps and toothpaste is guaranteed according to the planned cycles, which continues this program, which did not fail even in the most difficult times generated by the Covid-19. (Gladys Dailyn Morera Cordero / Radio Cadena Agramonte ) (Photo: File)