Thursday, August 6, 2020
Díaz-Canel claims that the crimes of Hiroshima and Nagasaki were terrorist acts
---
---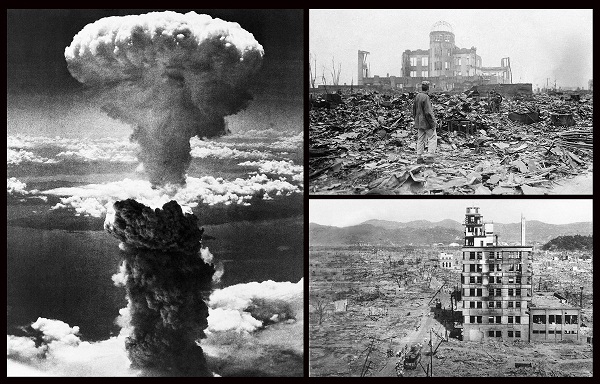 Havana, Aug 6.- The President of Cuba, Miguel Díaz-Canel, said today that the world must fight for peace and avoid repeating the events in Hiroshima, which cost the lives of thousands of people.
"The crime of Hiroshima and Nagasaki was a terrorist act, a genocide of the empire, that the world cannot forget," said the president on Twitter.
We must permanently fight for peace, exhorted the head of state, who also called to prevent events like this from being repeated in history.
On this day, the planet remembers the victims of the first atomic bombing, carried out in 1945 by the United States when World War II was ending, against the Japanese city of Hiroshima.
More than 324 thousand people have died so far as a result of that fact, including those who suffered the consequences of the radioactive fallout after the bombing.
Disaster survivors and delegations from 80 countries, along with Japanese Prime Minister Shinzo Abe, paid tribute on the 75th anniversary of the event and demanded the elimination of nuclear weapons on a global scale.
The Cuban Foreign Minister, Bruno Rodríguez, also joined the tribute on Twitter, noting that the world has 13,400 nuclear weapons, of which 1,800 are on high operational alert, which recalls the danger that tragedy happens again.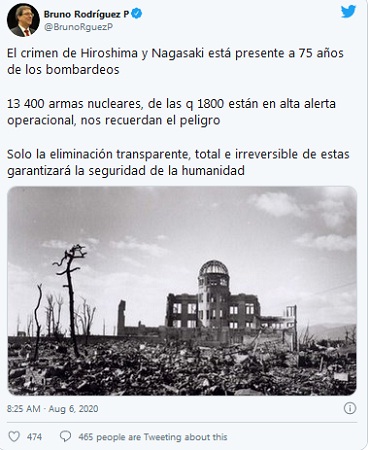 Only the transparent, total and irreversible elimination of these weapons will guarantee the security of humanity, the foreign minister concluded. (PL) (Photo: File)