Monday, August 10, 2020
Camagüey bets on hydraulic efficiency in water grid
---
---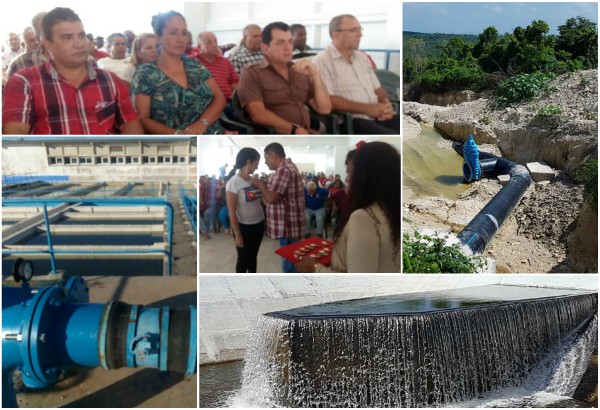 The work done by hydraulic workers in Camaguey is intense, in the execution of important investments, fundamentally in the maintenance and repair of water treatment plants, the installation of conductors, in addition to working in the elimination of leaks and the unblocking of sewage networks .
These days, a group of works that are carried out in the territory receive a constructive boost, based on existing resources, as this also responds to the celebration on August 10, of the Hydraulic Workers' Day.
In the municipality of Nuevitas, important actions are materialized that have a great impact on our society, an example of this is the rehabilitation work in the Water Treatment Plant of that municipality, which after being concluded, will supply water to important industries in the territory.
Meanwhile, other works are carried out in the water treatment plant in the main city, considered one of the largest in the country, which includes the assembly of new pumping equipment and the repair and maintenance of module one of the aforementioned facility.
In the same way, work is being done on the rehabilitation of the Najasa dos master canal, at the Cinco Turbinas pumping station, and in the community of Lombillo, belonging to the municipality of Esmeralda, the completion of the new desalination plant is being carried out, to supply drinking water to the residents of that community.
Investments also reach the northern keys of the province, with a group of hydraulic works for the development of tourism, mainly in Cayo Cruz where an important tourist center is built.
Camagüey, the province with the largest territorial extension in Cuba, is distinguished today by having the largest hydraulic infrastructure in the country, and being the second in water storage in the 54 reservoirs managed by the National Institute of Hydraulic Resources (INRH) .
To improve it, an expensive investment process is carried out that amounts to 41 million 272 thousand pesos.
Actions that are aimed at optimizing efficiency in the use of water, increasing the availability of the liquid and guaranteeing the demands for the supply of water to the residential sector, to the industry, to irrigation in agricultural projects and to the development of tourism. (Photo: File)
More from this section ...