Thursday, September 17, 2020
Local production cooperatives already with millionaire figures in milk production
---
---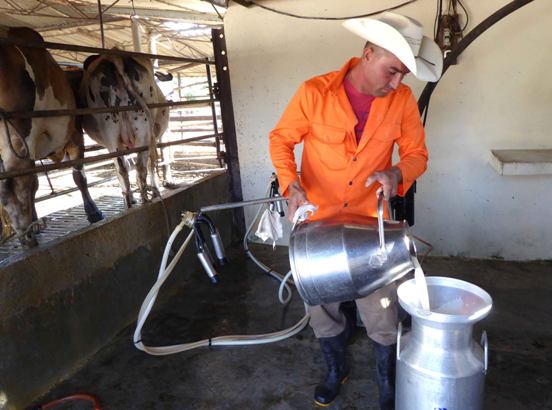 Camagüey, Sep 17.- With the collection of one million liters of milk, the CCS Evelio Rodríguez, from the municipality of Jimaguayú, was the second in the province of Camagüey to reach that figure, after its similar Batalla de Las Guásimas, located in the homonymous community of Vertientes, the first in Cuba to reach that goal.
This result allows both factories, attached to the National Association of Small Farmers (ANAP), to ratify their status at the forefront of the productive movement of one million liters of milk in this demarcation, as they did the previous year, informed the Cuban News Agency Roberto Reina Rodríguez, member of the Provincial Bureau of ANAP.
Although the current calendar registers a drop in milk production in the territory, the most hostile since 2014, the livestock sector is striving to alleviate this situation, recently declared Reinaldo Martínez González, a specialist in the field in the provincial delegation of the Ministry of Farming.
Among the main causes, he mentioned the extreme drought conditions, poor management of the herds and the lack of fuel to facilitate logistics tasks in the different units, mainly the shooting of water in pipes and the distribution of food for the mass.
He also commented that until the first week of this month, only a little more than half of the 92 million 906 100 liters projected in the plan of the year was collected, which translates into 13 million 840 500 below the planned for this date.
The search and implementation of more alternatives to ensure, above all, the feeding of the livestock, which is highly affected by the lack of water in natural lands, and the scarce availability of transportation means that ensure the logistics of these actions due to the fuel deficit that the country faces are still pending, said Martínez González.
Municipalities like Guáimaro and Jimaguayú, historically considered a landmark in milk production, are currently two of the most backward in this sense.
These territories owe the industry more than three and two million liters of milk, in each case, which are followed by Sibanicú and the Camagüey municipality, also among the high producers, with more than a million debits each. (ACN) (Photo: File / Miguel Febles)