Thursday, September 17, 2020
Defense Council in Camagüey calls for a strong hand on indiscipline
---
---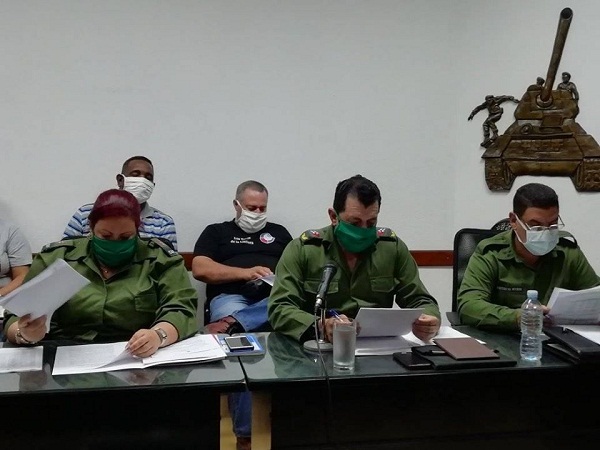 Camagüey, Sep 17.- Disruption in the queues, indiscipline, the presence of chores and problems in some Detachments of Revolutionary Vigilance, today in Camagüey attack the purpose of maintaining order in the lines for the purchase of products and contribute to isolation physical.
This was evaluated this Wednesday by Ariel Santana Santiesteban, president of the Provincial Defense Council, who, referring to popular criteria, mentioned the repeated presence of people in the vicinity of the establishments, and the wait for several days with shifts delivered illegally, issues that urge to face.
In the analysis it was learned that some have violated the mobility restriction between 10:00 at night and 5:00 in the morning, for which the corresponding sanctions will be applied. Likewise, those who cause indiscipline and public disorder will receive the weight of the law, with behaviors far removed from those promoted by Cuban society.
It was indicated to review the Revolutionary Vigilance Detachments in the face of the deficiencies presented in some of them, and it was also directed to address the dissatisfaction of the people in the isolation centers, in the face of the repeated complaints received by the Defense Council.
On the other hand, Mercedes Escuredo Olazábal, head of the Education Subgroup, clarified that the closure of the 2019-2020 school year has not been decided, only the speeding up of the evaluation process, so the schools remain open for the benefit of children and safety of parents and relatives, without neglecting sanitary hygiene measures.
In the Provincial Defense Council in Camagüey it was reported that the epidemiological study is being maintained regarding the patients recently detected with Covid-19, and in more than twenty isolation centers, just over a thousand people are kept, while Attention to risk groups is prioritized; a sample of them is that a new dose of Biomodulin T will be administered to those who remain in the Center for Social Protection. (Juan Mendoza Medina / Radio Cadena Agramonte) (Photo: File)