Friday, September 18, 2020
Rails that tell stories
---
---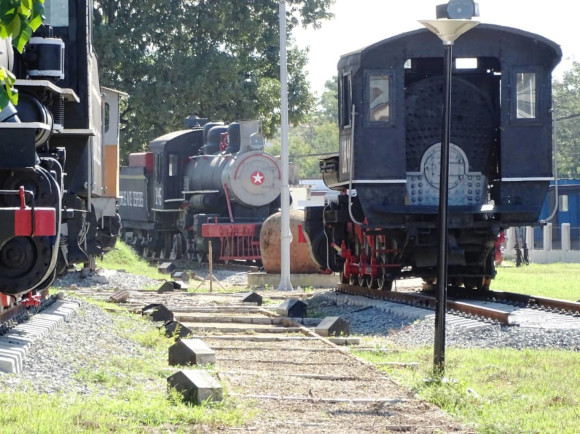 Museums are the guardians of history; past and present come together in a place eager for visitors with a thirst for knowledge. The Railway Museum project, sponsored by the Office of the Historian of the City of Camaguey, focuses on the rescue and renovation of a site of high patrimonial value, located in the historic center of the city.
So far, the construction of the Viajero park and the Gran Vía store has been completed, as well as the boulevard on Van Horne street, set with a theme related to the history of the railroad in the province, and which included the repair of the façade of the Hotel Plaza, from the Islazul hotel chain
As part of this project, also the Legion of Honor, an institution that was founded when the Consolidated Railroads had an address in Camaguey, now has a renewed air. Some details that have been delayed due to the effects of the pandemic remain to be completed.
The Museum is located in the railway node of the province, in the old San José station, whose construction began in 1910 and ended in 1914, although until 1924 it was undergoing transformations with a second level in the building. Some years ago it was completely repaired, due to the level of deterioration it presented.
It will consist of different museum rooms, which in simulation of the route of a train, will be called stations; declared María Cristina Portuondo Méndez, the museum's principal specialist.
At the beginning there will be the waiting room, which will have a giant map with the history of the railways in Cuba. There will be the stations of daily lives, urban planning and architecture, as well as technologies and signs.
In the upper room you can see a model of the little train of the Hatuey town terminal, created by the carpenter carpenter Rafael Tamarí Castellanos, who dedicated more than 20 years to this project. Panels with curiosities about trains in Cuba and the world are exhibited around the room.
The main novelty of the museum is in the use and exploitation of ICTs. Each panel will have a QR code that will allow the visitor to take home the information they want. Also, you can enjoy three interactive games: trivia, the driver simulation and the tram.
Rescuing the history of our town should be everyone's duty, the railway museum will allow adults and children to be interested in the industrial heritage of the province. (Text: Idaylen Rodríguez and Marieli Suaid / Journalism Students) (Photos: Humberto Cid)