Tuesday, September 22, 2020
Selected Loidel Chapellí, first MVP of the 60th National Baseball Series
---
---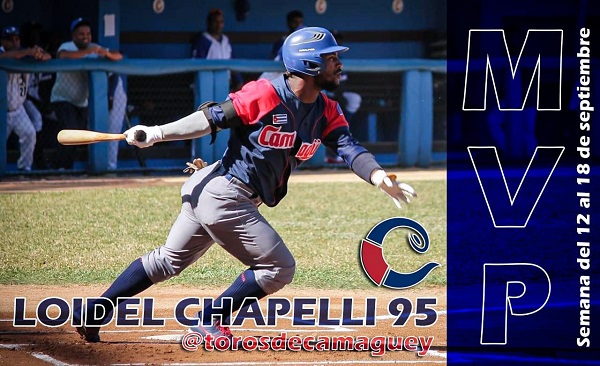 Havana, Sep 22.- Camagüey left fielder Loidel Chapellí was selected as the Most Valuable Player (MVP) in the first week of the 60th National Baseball Series, which today will begin its fourth particular sub-series.
For this selection, the first five games of the tournament were analyzed, from the debut of the season on the 12th to Thursday the 17th of this month. What happened last weekend will serve for the decision to be made next Monday, in which the next matches on Tuesday, Wednesday and Thursday will also be taken into account.
The small, but speedy Ranger of the Plains Bulls showed excellent figures: in 18 times at bat he hit 13 hits, including pair of doubles, drove in four runs and scored six, received four walks and barely received a strikeout. His average was 722.
First we selected 12 players and then we made a cut to leave three: Chapellí, Lisbán Correa (IND) and the Santiago pitcher Yunior Tur. Finally, we decided on the young Chapellí, commented the national commissioner Ernesto Reynoso in a meeting with the specialized press at the Latin American stadium.
The delivery of the incentive for that work enlisted two sports glories of Cuban Baseball: Rodolfo Puente gave it to Javier Méndez, who made it known by telephone to the talented Chapellí, who has always had the former center fielder of the Blues as one of their idols.
I congratulate you and urge you to continue like this, proving your worth, so that you can contribute much more to Cuban Baseball, Méndez commented.
This meeting between the Baseball Commission and the press was also conducive to learning about various technical aspects that occurred during the seven games played, among which the average duration of the 56 games (2.49 hours) stands out. The least extended was Holguín-Pinar del Río (1:59) and the longest Granma-Industriales (4:05 hours), but in 10 innings.
And referring to the arbitration issue, it was learned that three visits to the box were decreed by infielders; there were six balls called because the pitchers took more than 12 seconds; two strikes called for not being the batters at home play, in addition to the use of six video repetitions, with a result of four in favor of the referees and two for the directors. (ACN) (Photo: Profile on the Camagüey Bullfighting Board)