Tuesday, September 22, 2020
Cuban Deputy Prime Minister confirms progress in clinical trials of Soberana 01
---
---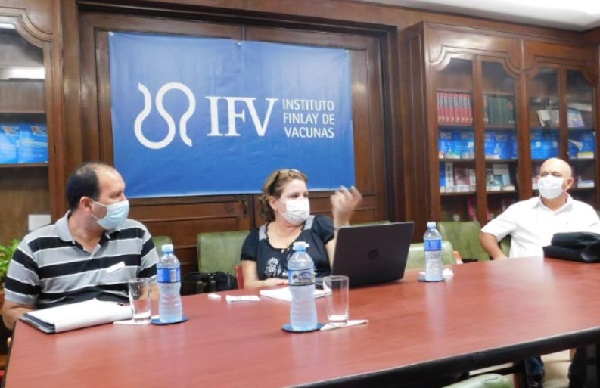 Havana, Sep 22.- Roberto Morales Ojeda, Vice Prime Minister of Cuba, made a working visit this Monday to the Finlay Vaccine Institute, in this capital, to verify the progress of the centre's projects, especially that of Soberana 01, the vaccine of the country against Covid-19.
In its official profile on Twitter, the institution announced about said visit through two tweets, in which it refers that Eduardo Martínez, president of the BioCubaFarma Biotechnology and Pharmaceutical Industries Group, accompanied Morales Ojeda.
During the exchange that favored the visit, important ideas were contributed that will help enrich the strategy of the Cuban vaccine against Covid-19, the institution explained in one of the tweets.
BioCubaFarma and the Finlay Vaccine Institute are in charge of the production of the Cuban vaccine candidate Soberana 01, the first of its kind in Latin America.
Since last August 24, the Cuban drug began clinical trials in humans, with 20 individuals between the ages of 19 and 59 years, and after a week, began the tests with other volunteers, but this time among the 60 and 80 years old.
Without reporting adverse effects so far, only slight pain at the injection site is taken into account, something common with all medications applied in this way.
Cuba is one of the first 14 countries to advance a vaccine candidate against Covid-19 to the clinical trials phase, and Soberana 01 deserves the support of national and international institutions, who see in it a hopeful step in the fight against the new coronavirus.
The Pan American Health Organization and the World Health Organization, together with the United Nations in Cuba, have valued the development of a vaccine in the region as very favorable. (ACN) (Photo: Taken from the Finlay Institute Twitter profile)