Friday, September 25, 2020
BANDEC Camagüey will boost delivery of magnetic cards
---
---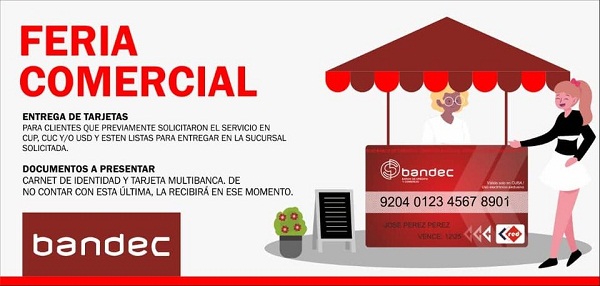 Camagüey, Sep 25.- In response to the high demand for the issuance of cards in any of the currencies, including freely convertible ones, this Saturday the Credit and Commerce Bank ( Bandec ) in Camagüey will hold a trade fair with the objective of to expedite the delivery of those supports that are already available to customers who requested them.
Yoryana Sarduy Cruz, Communication and Marketing Manager of the Provincial Directorate of Bandec, explained that all branches will provide this service between eight and 11 in the morning, with the possibility of receiving the multi-bank card that allows access to the channels of payment, including Transfermóvil, the Kiosco and the Telebanca .
The identity card will be required to present, and the initiative seeks to reduce pending deliveries, especially in the face of high requests in line with the advantages that these means, electronic commerce and the computerization of society have.
In the Bandec Camagüey Facebook profile, the user can verify if their card is already ready, depending on the branch that delivers it, publications that will be updated weekly so that the population does not wait unnecessarily outside the units banking.
This Saturday, the Banco de Creditos y Comercio in the province of Agramontina will open all its branches to expedite the granting of magnetic cards in CUC, CUP or freely convertible currency, a process that, like the rest, will be carried out in compliance with health protocols and will asks the population to maintain physical distancing while they wait for their respective turns. (Juan Mendoza Medina / Radio Cadena Agramonte ) ( Photo taken from the Facebook profile BANDEC Camagüey)