Wednesday, September 30, 2020
Cuba reports 66 new cases of Covid-19 and no deaths
---
---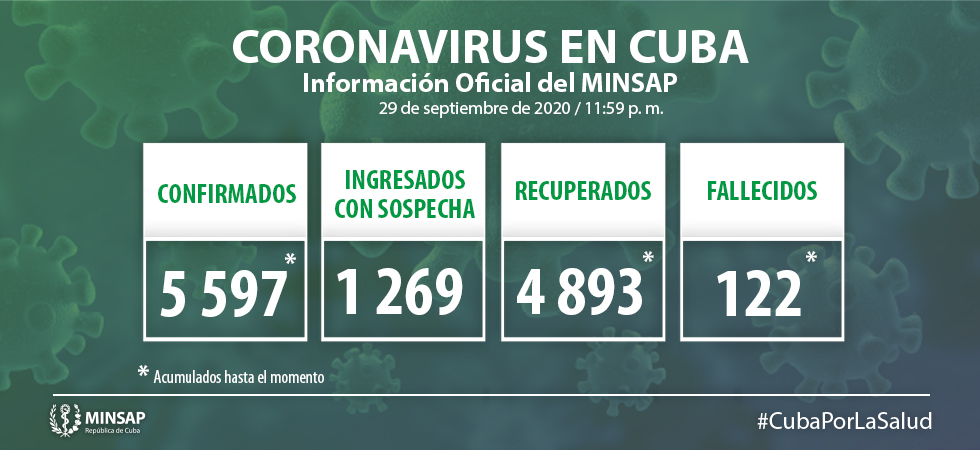 Havana, Sep 30.- At the close of September 29, 7,150 patients were admitted to hospitals for clinical epidemiological surveillance, of them: 5,301 under surveillance, 1,269 suspected and 580 confirmed.
For Covid-19 7,550 samples were studied, resulting in 66 positive samples. The country accumulates 613 thousand 994 samples carried out and 5 thousand 597 positive (0.91%). Therefore, at the close of yesterday 66 new cases were confirmed, with a cumulative of 5 thousand 597 in the country.
Of the 66 diagnosed cases, 65 are Cubans and a temporary resident foreigner in the country. Of the 66 confirmed cases, 65 are autochthonous and one imported.
Of the total number of cases (66): 61 were contacts of confirmed cases, four without a specified source of infection and one with a source of infection abroad.
Of the 66 confirmed cases, 54 are male and 12 are female. 77.3 percent (51) of the positive cases were asymptomatic, accumulating 3,392, representing 60.6 percent of those confirmed to date.
Ministry of Public Health of Cuba