Tuesday, October 13, 2020
Day of Sugar Worker celebrated in Camagüey
---
---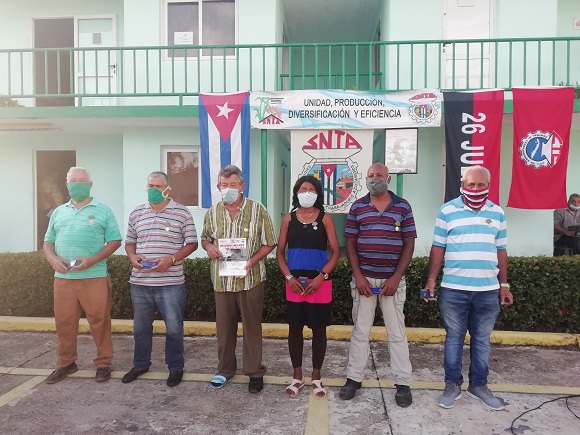 Camagüey, Oct 13.- On the day of the sugar worker, 94 men and women from that sector in Camagüey received the Jesús Suárez Gayol distinction, for their outsatnding permanence for more than 20 and 25 years of uninterrupted work in their jobs.
Among the honorees, Armando Rodríguez Oliva and Manuel García Oms, highlighted the importance of their work as a turner and radio plant technician, respectively, and the contribution to the development of harvests, thanks to the assurance they provide to the means and equipment in them they intervene.
During the provincial celebration, the October 8 seal was awarded to the Vladimir Ilich Lenin Workshop Division, for the prominence of the National Association of Innovators and Rationalizers.
Lázaro Álvarez Padilla, director of the Sugar Company in the province, read the congratulatory letter sent by Julio Andrés García Pérez, president of the AzCuba Group, and José Antonio Pérez Pérez, general secretary of the sugar union in the country, in which they highlighted the historical significance of the nationalization, 60 years ago, of power plants at that time in the hands of Yankee consortia.
They also called for the fulfillment of the cane planting plans, the repairs of the industries and quality machinery for the start in time of the fight, aware of the contribution of exports to the economic recovery of the nation.
For his part, Enrique Sosa Nieves, secretary of that union in the territory, specified that the increase in sugarcane yields, the preparation of the personnel who will intervene in the contest, the creation of favorable working conditions, individual motivation and collective, labor discipline, control of resources and reduction of expenses.
During the provincial celebration for the day of the sugar worker, which took place in the Vladimir Ilich Lenin Workshop Division, the tradition of struggle and commitment of that union was highlighted, which currently has the challenge of increasing the results of a decisive item for the economy. (Text and photos: Juan Mendoza Medina / Radio Cadena Agramonte)