Saturday, November 14, 2020
ProInnova 2020 comes to an end
---
---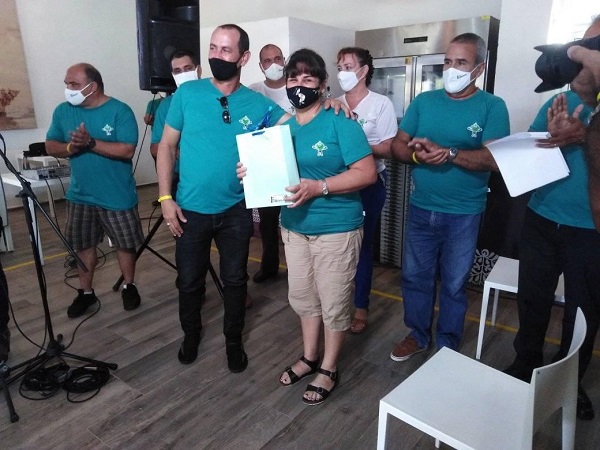 Camagüey, Nov. 14.- With the call to multiply the knowledge and tools socialized in the contest, the third edition of ProInnova 2020 culminated this Friday in Camagüey, an event that is committed to the use of intellectual property in production processes, services and of innovation management.
Carmen Hernández Requejo, vice-governor of the host province, described the meeting as an excellent space for collective thought and construction, with innovative and above all very useful ideas for the new development strategy proposed by the country's leadership.
"It is essential to ensure that the entire business system participates in events of this type and that economic factors come together, because the solution to problems is found in development based on science and the search for innovative solutions," he stated.
During the closing three presentations were awarded as relevant and four were outstanding. Within the first category is trademark management as a premise for the determination of an exportable product: the fluctooligosaccharide, by a group of researchers represented by the MsC. Dámarys Eulalia Corona Pons.
Likewise, Adonis Zúñiga Tamayo, from the province of Holguín, was recognized for his work Heka, software for the management, control and monitoring of the registration procedures of works by copyright, and Dr. C Anisley Cabo Inclan, for its Intellectual Property Strategy, experience from the computerization of the Camagüey Accommodation Company .
The ProInnova 2020 Scientific Committee came to the conclusion that the high degree of application of the results and the appropriate design of the products, as well as the interest of the participants in the research presented, made this an edition of excellence and great utility.
On the closing day, Yaité Mora Vázquez was also recognized for the results in the performance of her functions as a social communicator in the provincial delegation of the Ministry of Science, Technology and Environment (CITMA) during this calendar, and thanked each one of the speakers and Liosha Áreas Artiles, CITMA delegate here, for their support and contribution to the event.
Sponsored by the Institute of Scientific and Technological Information (IDIT), as well as the Center for Innovation and Technological Management (CIGET), the contest managed to move the thinking of those present and create working alliances that become new projects for economic and social advancement.
With 190 attendees from Havana, Holguín and Camagüey, the third edition of ProInnova came to an end highlighting the importance of innovation, intellectual property and science as a priority for the country and as a determining factor for the development of the Agramontino territory. (Text and photo: Dayessi García Sosa / Radio Cadena Agramonte)