Monday, November 16, 2020
Cuba, 49 new Covid-19 cases; one in Camagüey
---
---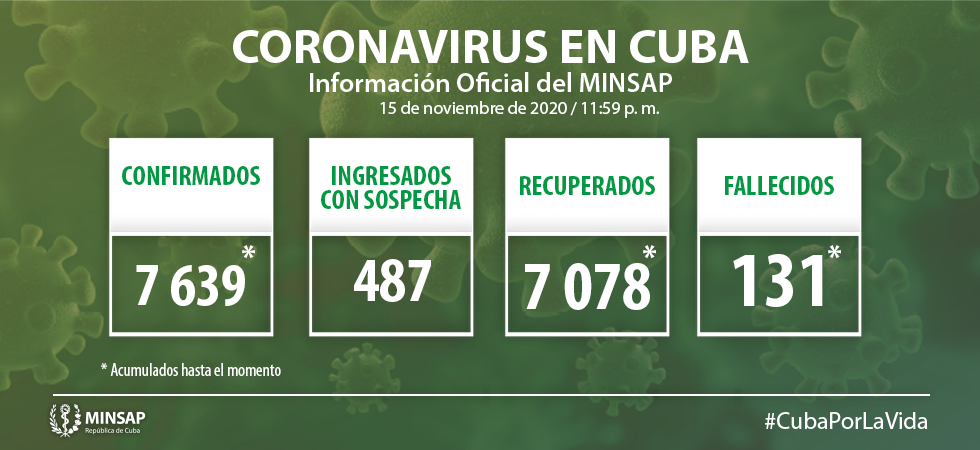 Camagüey, Nov. 16.- According to the part of the Cuban Ministry of Public Health (MINSAP) on the Covid-19 in the country, issued at the close of November 15, a new case belonging to this province was confirmed.
23-year-old Cuban citizen. He resides in the Camagüey municipality, Camagüey province. With source of infection abroad. 20 contacts are kept under surveillance.
At the close of this Sunday, November 15, 2,292 patients were admitted for clinical epidemiological surveillance, 487 suspects, 1,377 under surveillance and 428 confirmed.
For Covid-19, 8,577 samples were studied, resulting in 49 positive samples. The country accumulates 977,916 samples carried out and 7,639 positive (0.78%). For both at closing yesterday 49 positive cases were confirmed to Covid-19, for a cumulative total of seven thousand 639 in Cuba.
Of the total cases (49): 46 were contacts of confirmed cases, two with a source of infection abroad and one without a specified source of infection. 79.5% (39) of the 49 positive cases were asymptomatic.
Ministry of Public Health of Cuba.