Wednesday, November 25, 2020
Fidel endures
---
---
By Gladys Dailyn Morera Cordero / Radio Cadena Agramonte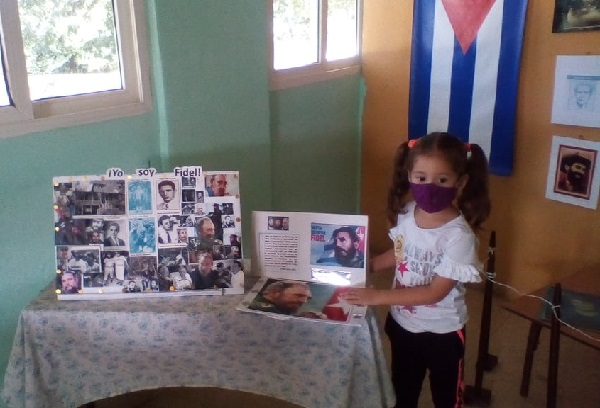 It is enough to talk with people who had the privilege of sharing with Fidel during the guerrilla struggle, the internationalist missions or in his tours throughout the country, or with those who from a physical distance but moral closeness always carry him with them.
This is what happens to the Rebel Army fighter, Manuel Aragón Carballo, who at 91 years of age still has fresh memories of his experiences alongside the Commander-in-Chief, despite having spent six decades of his stay in the Sierra Maestra.
For his part, Orlando Mora Montenegro talks about how far-sighted Fidel always was. He remembers how the sad events of the Pino Tres Ambush and the La Caobita massacre occurred precisely because they did not comply with the instructions of the Commander to avoid the transfer of troops in trucks through the Camagüey plains.
University students, who know Fidel father and friend, approach these and other events in local history. There were many times that the leader of the Cuban Revolution met with them to discuss the future of Cuba; the one he always told them belonged to him.
Aviannys Delgado Herrera is a freshman student of Journalism at the University of Camagüey Ignacio Agramonte Loynaz. In times like these, when the world is suffering the consequences of a terrible pandemic, which Cuba has managed to face with great dignity and decorum, thanks to Fidel, because he was the one who planted a humanist vocation in the Cuban people and solidarity.
Meanwhile, for the fifth-year Chemical Engineering student from his own college, Yurisdan Paneque Díaz, Fidel's legacy comes from the teachings of his parents and teachers, and through classes he finds new ways to delve into the thought of the historical leader.
Also Andy Morales Tena, third year of Industrial Engineering, expresses that Fidelista thought, intransigence and virtue become a moral shield among Camagüey university students.
Today, four-year-olds Ana Paula Tejón Guevara, Ahiona Dinora Guerra Couto and Isabela Varela Seijo, from the Mártires de Pino Tres nursery school, speak of Fidel with tremendous ease. Through poetry and songs, her educators have taught her to love that bearded man who did so much for them.
"The lady tells me that Fidel fought for the children and that he loved the children very much," says Ana Paula; "That's why we love him too."
Four years after his physical departure, the legacy of the leader of the Cuban Revolution is safe in the hands of the new generations. Youth, children, the people all corresponds to Fidel devotion and love, building, each one from his position, better and possible world he inherited us. (Photos by the author and Humberto Cid)
More from this section ...