Thursday, November 26, 2020
Six local milk production branches reach one million liters
---
---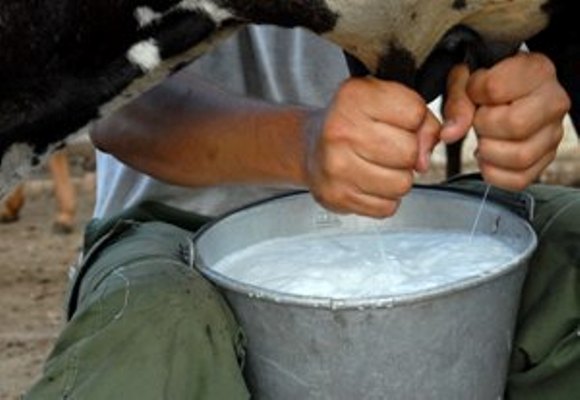 Camagüey, Nov 26.- After reaching one million liters of milk delivered to the industry, the CCS Niceto Pérez García, belonging to the community of San Miguel, in Nuevitas, the province of Camagüey adds six milk production branches reaching one million liters this year.
When confirming it to the Cuban News Agency (ACN), Roberto Reyna Rodríguez, in charge of the agri-food sphere in the territorial delegation of the National Association of Small Farmers, also explained that the six mentioned peasant units accumulate more than seven million liters of food contributed to the Dairy Products Company.
Until the end of October, the cooperative and peasant sector meets 91% the annual plan readjusted to just over 66 million liters, said Reyna Rodríguez, thus guaranteeing part of the raw material used in industrial processing and the distribution of the basic basket and other social programs.
In the current month, like the farmers of the CCS Niceto Pérez, the millionaire plan was achieved by those of the Romárico Cordero, located in the La Porfuerza community, in the municipality of Florida.
Carlos Hidalgo Rodríguez, president of Niceto Pérez, attached to the Nuevitas Agricultural Company, told the ACN that last Saturday they achieved the important result thanks to the efforts of the peasants, who despite the recent rains have kept working, for the sake of to ratify the status of millionaires held since 2005.
At the same time, he affirmed, it constitutes a positive response to the current economic situation, exacerbated by the blockade of the United States government against Cuba, in an atypical year for livestock, and which was also influenced by a strong drought since mid-December 2019 and until most of the month of June.
With 350 associates, 279 of whom are direct in milk production, which average four liters per cow each day, the CCS Nuevitera has simultaneously delivered more than 500 tons of meats, vegetables and grains.
Before the rains, which cause stress to the animals and excess humidity in the land, the ranchers of San Miguel paid about 4,800 liters of milk daily, and currently they average between 3,000 and 3,400, said its president.
According to a report on the Adelante newspaper website, the milk collected by producers who are members of the Millionaire Units Movement, which in Camagüey constitute 25 cooperatives, represents approximately 27% of what the province collects.
Despite the fact that the number of millionaire productive forms is lower than in 2019, when 11 cooperatives achieved the aforementioned goal, the territory consolidates its leadership in the economic program at the national level, because in addition to the six peasant entities in Camagüey, only two others show similar records in the country, one located in the province of Pinar del Río and another in Las Tunas.
In general, dairy production in this central-eastern region, the one with the greatest potential in Cuba, exhibits non-compliance with the current calendar as a consequence, in addition to problems with the lack of infrastructure in the dairy farms to ensure sufficient water and food, and the shortage of basic inputs and poor comprehensive management of livestock. (ACN) (Photo: File)