Wednesday, December 21, 2011
Cadena Agramonte Presents Multimedia: From the Literacy Campaign to Yes, I Can
---
---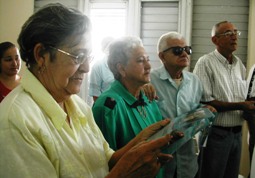 Camaguey, Cuba, Dec 20.- The multimedia called Camagüey, Cuba: From the Literacy Campaign to "Yes, I Can" literacy method, carried out by Radio Cadena Agramonte web publishing group, was presented today as part of actions to commemorate the 50th anniversary of the declaration of Cuba as the "first  illiteracy-free country" in Latin America.

Members of the pilot brigade of literacy educators, who in early 1961 - before the Campaign - practiced in Cayo Coco how the process of learning literacy will be, attended the presentation of this audio-visual product.

Former members of "Conrado Benítez" literacy brigade, volunteer teachers and Camaguey-resident professionals who have contributed to implementation of the Cuban literacy method "Yes, I Can", specifically in Haiti, were also present at the meeting.

In addition to valuable testimonies, the Multimedia includes audios, videos, photos galleries, books in digital format and a selection of speeches made by Commander in Chief Fidel Castro in 1961, Year of Education.

Omar Núñez, representative of the Provincial Department of Education in Camaguey, recognized the value of this Multimedia and guaranteed its presence in education centres of the territory, since the audio-visual work contributes also to the knowledge of local history. (Yamylé Fernández Rodríguez and Tay Toscano Jerez / Radio Cadena Agramonte).