Nicolás Guillén Foundation begins celebrations for Cuban culture
---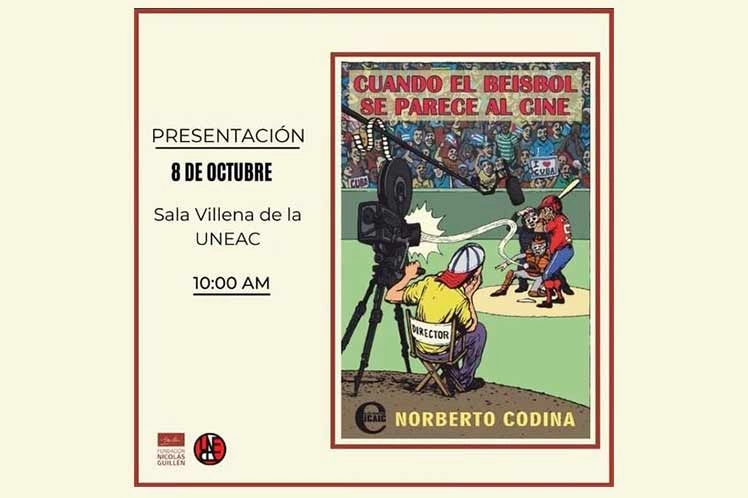 Havana, Oct 8.- The Nicolás Guillén Foundation today begins a wide program of academic and artistic activities, which will include the various branches of the institution in Cuba, to commemorate the day of national culture.
The calendar of celebrations proposes this Friday the presentation of the book When baseball looks like cinema, signed by Norberto Codina, under the seal of the publishing house of the Cuban Institute of Cinematographic Art and Industry.
From the Villena room of the Union of Writers and Artists of Cuba, creators such as the director Arturo Sotto and the historian Félix Julio Alfonso López, will talk about the premises that support the volume, which approaches the relationship of baseball, with the culture and identity of Cuba.
The actions designed within the framework of the day of culture in the Caribbean country, which is celebrated on October 20, also pay tribute to the 120th anniversary of the José Martí National Library and the seven decades of one of Guillén's iconic texts.
In this sense, the agenda includes the realization of the panel entitled 70 years of the prince edition of Elegía to Jesús Menéndez, of the National Poet, in which recognized scholars of his work will participate such as the director of the Sensemayá Publishing House, Denia García Ronda, Francisca López Civeira and Nicolás Hernández, president of the Nicolás Guillén Foundation.
According to Hernández, the work of the writer certifies its anti-imperialist character and fights for social justice, with a lyric where Caribbean humanism is based and the need to eliminate the evils that plague Cuba.
Born in the province of Camagüey, Guillén developed an admirable work as a political activist and in defense of Afro-descendants, framing his poetry in the processes of miscegenation and transculturation. From the spirit to the skin the definitive color will come to us. One day it will be called Cuban color, the writer himself signed in the prologue Sóngoro cosongo, published in 1931 and witness to the so-called mulatto poetry or the blackness of his lyrics.
With three decades dedicated to studying, promoting and preserving the work of Gillén, the foundation that bears his name has been the protagonist since last January in a series of activities related to important events and the projects that it develops in the academic, sociocultural, community, artistic and editorial spheres. (Text and photo: PL)
---
---
Comments
---
Your email will not be published *