University of Camagüey resumes sports activities
---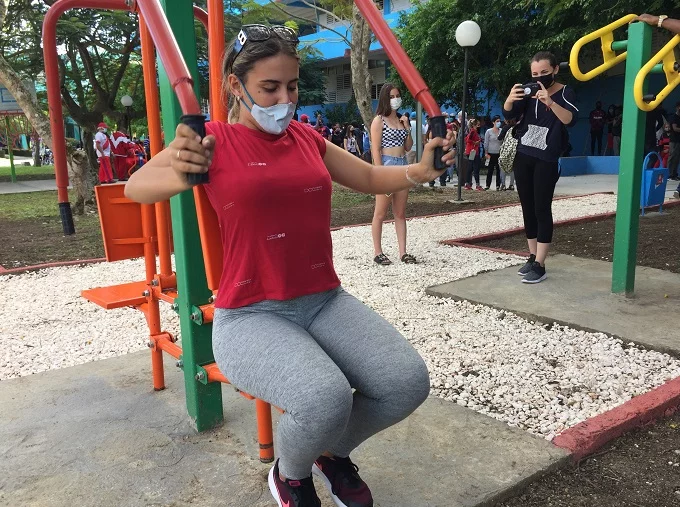 Camagüey, Nov 11 - The University of Camagüey (UC) Ignacio Agramonte Loynaz took up, in addition to the expected face-to-face classes, one of the other historical passions of its students and workers: sports games, as part of the start of activities dedicated to the anniversary 63 of the triumph of the Cuban Revolution.
This Wednesday, the sports festival included the inauguration of the Biosaludable Park of this house of higher studies, an agreement taken at the last Congress of the University Student Federation (FEU) and that the institution gave to its students, teachers and non-teaching workers for the practice of physical activity.
The gym will operate from 8:00 am to 4:00 pm and will always have a Physical Culture teacher to guide the practitioners, said the Physical Education teacher, Pedro Pablo Pedroso, who is in charge of this facility.
In the opening ceremony, the president of the University Student Federation in the institution and journalism student, Laura Marian Bacallao Padrón also announced that other activities are organized to celebrate such a momentous date as January 1, 1959; as well as to commemorate the Student's Day and the Educator's Day.
The return of the practice of sport to the Casa de Altos Estudios in Camaguey also led to basketball, volleyball and the popular baseball five games, three of the sports disciplines with the best results for UC at the national level and with the greatest rivalry and followers in the main competition that the institution develops annually: the Taíno Interface Games. (Taken from the digital portal of the University of Camagüey)
---
---
Comments
---
Your email will not be published *