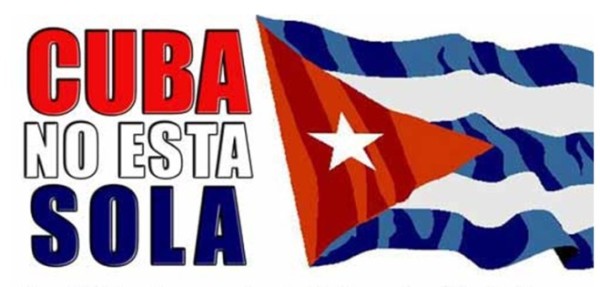 Mexico, Nov. 15 - The Network of Intellectuals, Artists and Social Movements in Defense of Humanity (REDH), today reiterated its support for Cuba and demanded the end of the US blockade against the island and respect for its self-determination.
Through a public letter addressed to the artistic community and the international press, as well as to Cuban artists and the peoples of the world, the organization repudiated the most recent destabilizing attempt against the Cuban Revolution orchestrated by the United States government.
The REDH emerged in 2003 at the initiative of prominent Mexican and Cuban intellectuals, and its intention was expressed in the appeal "To the conscience of the world", read by the Mexican intellectual Pablo González Casanova on May 1 of the same year in the Plaza de la Revolution, in Havana.
In its statement today, the network denounced that the historical methods used for that purpose by that country, such as the intelligence agencies, associations and counterrevolutionary foundations financed by the State Department, have now been added to the use of artists sponsored for the purpose. meddlers and coup plotters.
"The use of sponsored artists and the manipulation of art and culture for coup and neo-colonialist purposes is an old and constant practice of US intelligence organizations against the free and sovereign peoples of the world," said REDH.
Today in the case of Cuba, from an immeasurable rogue, they use figurines of the society of the spectacle, unscrupulous and with all the neoliberal and colonialist media apparatus at their disposal so that, by way of intrinsic sensitivity to human beings, the people of Cuba be victimized through vile lies about violations of freedom of expression.
The international organization - made up of artists, intellectuals, cultural managers, social organizations and unions from Mexico, Italy, France, Bolivia, Brazil, Venezuela and Argentina - criticized terms such as "persecution" of creators and artists, "repression" and even "enforced disappearanceare" cowardly media speeches by the United States, the greatest terrorist against humanity.
He considered that "using artists as a battering ram through lies and manipulation against a legitimate revolution and a peaceful and democratic people is an inadmissible vileness.
The REDH assumed that war is cultural and endorsed its mandate to remain in the first line of defense against any attempt to violate the sovereignty and self-determination of our peoples. (PL)
---
---
Comments
---
Your email will not be published *