Cuban baseball team announced for Cali 2021
---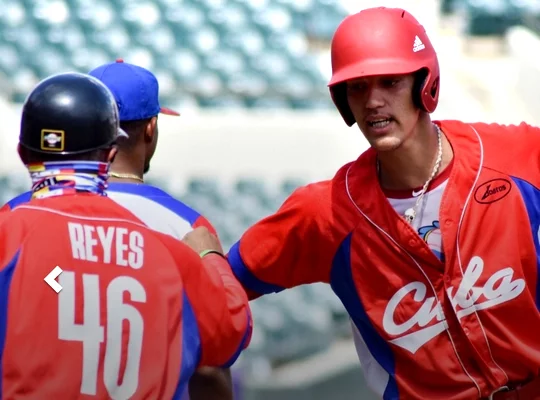 Havana, Nov. 15 - The National Baseball Commission reported this Sunday about the formation of the team that will participate in the I Junior Pan American Games in Cali 2021.
Three receivers, seven infielders, three outfielders and nine pitchers make up the cast led by Eriel Sánchez from Spiritus.
The group is led by several of the athletes who recently attended the U23 world championship in Mexico, to say the mask Andrys Pérez, the first baseman Guillermo García and the pitchers Frank Abel Álvarez and Naikel Cruz, among others.
The baseball of the continental event will be played in the Barranquilla branch from November 26 to December 2. Eriel has declared that the objective is to reach the podium of the joust. (JIT)
PAYROLL
Pos.

Name

Surnames

No.

PRO

C

Andrys

Perez

Garcia

17

MTZ

C

Jorge Yoan

Red

Martinez

fifty

PRI

C

Ariel

Pestane

Pinkish

13

GRA

1 B

William

Garcia

Garcia

fifteen

GRA

1 B

Pedro Pablo

Revilla

Leiva

27

GTM

JC

Tony daniel

War

Echazabal

18

PRI

JC

Christian leandro

Rodriguez

Garcia

6

VCL

JC

Adrian Saturnino

Rivera

Blackberry

eleven

CFG

JC

Carlos Rafael

Rodriguez

Gonzalez

2

LTU

JC

Juan Carlos

Lopez

Red

12

VCL

J

Roidel

Martinez

Perez

1

PRI

J

Alejandro Javier

Escobar

Martinez

66

SSP

J

Robert

Alvarez

Cardenas

52

MTZ

L

Frank Abel

Alvarez

Diaz

22

PRI

L

Naikel Yoel

cross

Zaldivar

twenty-one

MTZ

L

Marlon

Vega

Naughty

90

MAY

L

Kelbis

Rodriguez

Lion

16

GRA

L

Jose Eduardo

Saints

Escalante

35

SSP

L

Luis Alejandro

Serpa

Socarras

53

CFG

L

Mailon

cross

Highlander

25

MAY

L

Alex Daniel

Perez

Bouquets

93

CFG

L

Alyanser

Alvarez

of the sun

63

MAY
---
---
Comments
---
Your email will not be published *