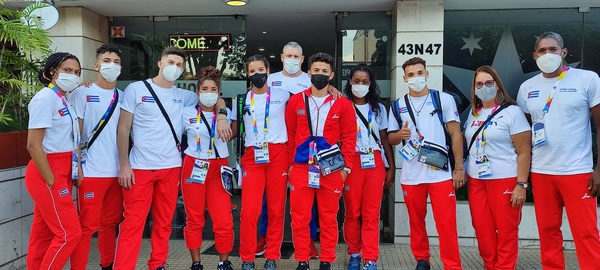 Cali, Nov 23 - A total of 43 Cuban athletes have already arrived in this Colombian city to participate from this 23rd of November in the I Junior Pan American Games.
This Monday, the representatives of diving, sports shooting, canoeing and triathlon, on international flights arrived at the Alfonso Bonilla Aragón International Airport.
Dressed in red and blue uniforms, made by the Batos Sports Company, the arrival of these athletes together with their coaches and officials follows a meticulous air transport operation that includes spaces on commercial and charter flights.
Everything is part of the effort made by the Island so that its children, adolescents and young people can participate in this historic event, since it kicks off an event that promises to transcend time and connect with the already existing Youth Olympic Games and the announced Central Caribbean youth games.
With the arrivals of this Monday, prominent Cuban athletes such as canoeists Katerin Nuevo and José Ramón Pelier, medalists in world championships for seniors and youth, are already in Cali; and diver Anisley García, queen of the platform at the Barranquilla 2018 Central Caribbean Games.
For this Tuesday, November 23, the arrival of our 11 swimmers is expected, headed by Andrea Becali, and also the first charter flight that will bring 45 athletes and 75 officers in one fell swoop, led by the head of Inder Osvaldo Vento Montiller, head of the Cuban mission at the rendezvous.
The list of athletes includes badminton players, boxers, cyclists, weightlifters, goalkeepers, baseball players and a representative from athletics. In the case of the players, they will connect in a few hours to the city of Barranquilla, headquarters of that fight from the 26th.
While all that hustle and bustle is underway, the Island's debut at the Games will take place at 5:00 pm, as its handball players will take on a tough clash against Brazil at the Iván Vassilev Todorov World Cup Coliseum, nestled in the Pan-American cluster.
The arrival of our delegation will be completed on November 27 and 28, when a second charter flight transfers 89 athletes and 31 officials from athletics, cycling, fencing, rhythmic gymnastics, karate, wrestling, artistic swimming, skating, modern pentathlon, rowing. and candle; and through commercial flights, the male cast of handball, skaters, tennis players and beach volleyball players arrive.
Charter operations are contracted to Bahama Air, while the rest of the trips include Copa Airlines, Viva Aerobus and Avianca. (JIT)
---
---
Comments
---
Your email will not be published *