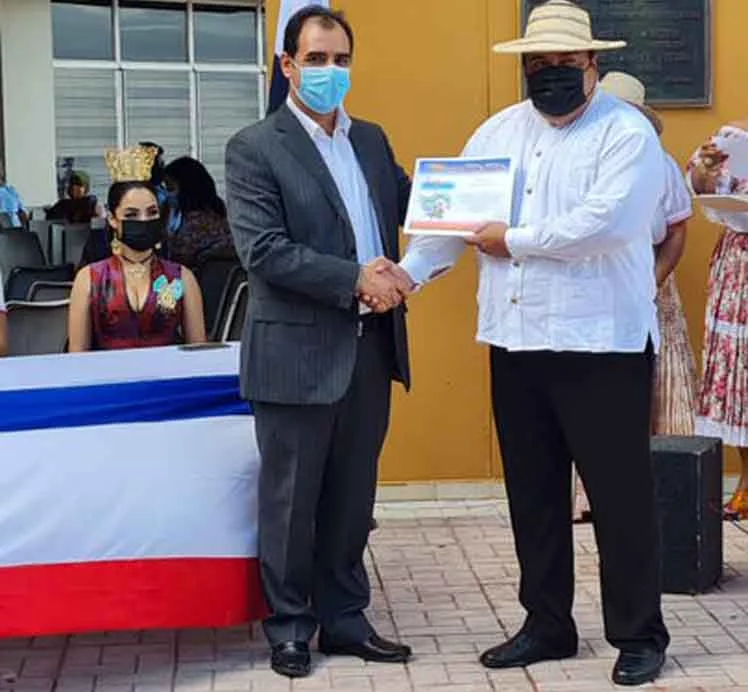 Panama, Nov 23 - The regional director of Health of the neighboring province of Panama Oeste, Dr. Kevin Cedeño, delivered a diploma of recognition to the Cuban medical brigade that worked at the Nicolás Solano hospital on Monday.
"Thank you for making a difference in the face of the global SARS-CoV-2 pandemic," reads the parchment delivered to Norberto Escalona, ​​political advisor of the Embassy of Cuba in the isthmus nation, as part of the celebrations for the bicentennial of independence of Panama of Spain, occurred on November 28, 1821.
"As the month of the Fatherland is celebrated in November, in which we pay tribute to our nation and heroes, the occasion is propitious to thank them and praise their laudable work, dedication, sacrifice and dedication for the benefit of the Panamanian population", underlines the recognition.
During the event, Dr. Yamilka Abad, director of the health institution located in the village of La Chorrera, highlighted the contribution of the island's doctors in the confrontation with Covid-19 amid the high numbers of infections, income and deaths caused by this disease in early 2021.
On December 24 of last year, 230 specialists from the International Contingent of Doctors Specialized in Situations of Disasters and Serious Epidemics, Henry Reeve, arrived to the canal for the opinion of the general director of the Social Security Fund, Dr. Enrique Lau, to reverse the situation that presented then the Central American country.
As a result of their "work, solidarity, sacrifice and humanism", Cuban doctors were nominated for the 2021 Nobel Peace Prize, a nomination that had the support of local academics and regional institutions such as the Latin American and Caribbean Parliament.
The group of 23 Antilleans who worked until last June at the Nicolás Solano hospital was made up of intensivists, internists, cardiologists and pulmonologists, who provided their services in six of the seven wards enabled for those infected with Covid-19.
The 10 brigades that made up the Henry Reeve Contingent in Panama were also deployed in the western province of Chiriquí, capital hospitals and alternative healthcare facilities created as a result of the escalation of the pandemic.
To date, the Isthmian nation reports 475,997 infected, 7,353 deaths and 5,964,456 doses applied to 79.2 percent of the possible population to be vaccinated with the complete immunization scheme. (PL)
---
---
Comments
---
Your email will not be published *