More than 27 million COVID-19 vaccine doses administered in Cuba
---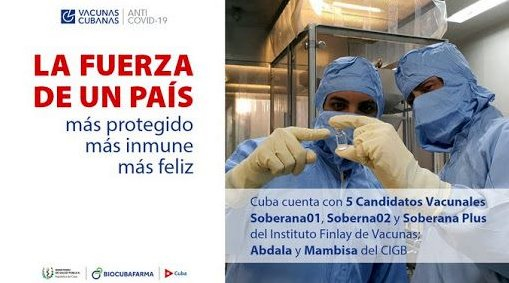 Havana, Nov. 24 - A total of 27, 923, 083 COVID-19 vaccine doses have been administered in Cuba with the national vaccines Soberana 02, Soberana Plus and Abdala, reports the Ministry of Public Health today.
At the end of this November 22, 9, 086, 703 people had completed the immunization scheme, a figure equivalent to 81.2 % of the Cuban population.
According to the source, to date 10 million 136 thousand 225 people have received at least one dose of one of the Cuban drugs, and of that figure, nine million 179 thousand 660 people already have a second dose, and a third, eight million 607 thousand 198.
The development strategy for Cuban immunogens has included 17 million 584 thousand 430 doses administered in the mass vaccination, nine million 618 thousand 123 in the health intervention, and 454 thousand 064 in the intervention study.
Likewise, 266 thousand 466 doses were applied as of March 2021, as part of the clinical trials with the then vaccine candidates Soberana 02, Abdala and Soberana Plus (for convalescent patients). (ACN)
---
---
Comments
---
Your email will not be published *