Nature Magazine recognizes the success of the Cuban strategy to develop its own anti-COVID-19 vaccines
---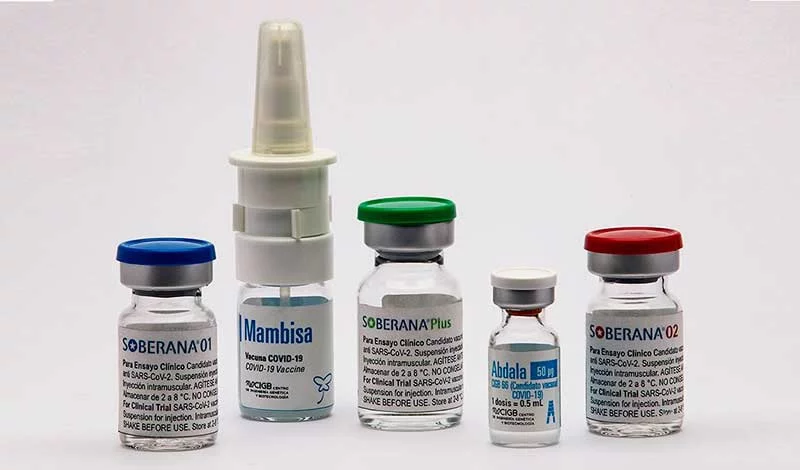 Havana, Nov. 24 - Nature, one of the most prestigious scientific journals in the world, published an article in which the success of the Cuban strategy to develop its own anti-COVID-19 vaccines is recognized.
The text, translated by the Cubadebate portal, indicates that when the pandemic began, Cuba decided not to wait for the rest of the world to develop vaccines.
It recognizes that the economic, commercial and financial blockade imposed by the United States prevents the products manufactured in the North American nation from being exported to the Island, which would make their acquisition difficult.

The article recounts how the Finlay Institute and the other biotechnology centers began developing their own immunogens in the hope that at least one of them would be effective. "His bet seems to be paying off," he highlights, referring to the fact that Soberana 02 is more than 90 percent effective in protecting against symptomatic COVID-19 infection when used in combination with a related one. "Importantly, the combination appears to be effective against the highly transmissible Delta variant of the SARS-CoV-2 coronavirus, which has caused a surge in hospitalizations and death worldwide and now accounts for nearly all COVID- cases. 19 in Cuba ". It states that until November 18, 89 percent of the Cuban population, including children up to two years old, had received at least one dose of Soberana 02 or Abdala, produced at the Center for Genetic Engineering and Biotechnology (CIGB), in Havana.

It also highlights that this center reported in July that Abdala, a three-dose vaccine, was more than 92 percent effective in phase III trials, which included more than 48,000 participants.

The country has started exporting the two homegrown drugs to Venezuela, Vietnam, Iran and Nicaragua; and has asked the World Health Organization to approve them, an important step to make them available throughout the developing world, he stresses.

The article indicates that protein-based immunogens like Soberana 02 and Abdala might have some advantages over other types of vaccines, according to Craig Laferrière, head of vaccine development at Novateur Ventures in Toronto, Canada, who has been comparing safety and efficacy of COVID-19 injections.

Unlike the messenger RNA (mRNA) vaccines produced by New York City-based Pfizer and Cambridge, Massachusetts-based Moderna, protein vaccines do not need to be kept at extremely low temperatures, facilitating their distribution in remote areas, he explains.

He adds that they might also have fewer side effects than AstraZeneca and J&J, which use an adenovirus to deliver the gene from a different portion of RBD to cells and have been linked to blood clots.

Although Finlay's medRxiv manuscript (which is not peer-reviewed) does not contain extensive clinical data, Laferrière expects the side effects of Soberana 02 to be minimal, because less than one percent of the participants in the phase III trial developed fever, refers.
Read more: Cuba has the doses of anti-COVID-19 vaccines to immunize its entire population in 2021
Laferrière adds that there are also drawbacks in approach; protein-based vaccines are made using various types of cells to synthesize large amounts of proteins.

"I think it will be a useful addition to the world," says John Grabenstein, president of the vaccine consultancy Vaccine Dynamics in Easton, Maryland.

"Everyone is using a different tool from the toolbox, and pretty much everyone is working." (ACN)
---
---
Comments
---
Your email will not be published *