Camaguey Screening procedures and vaccination against Covid-19 to be reinforced in Camaguey
---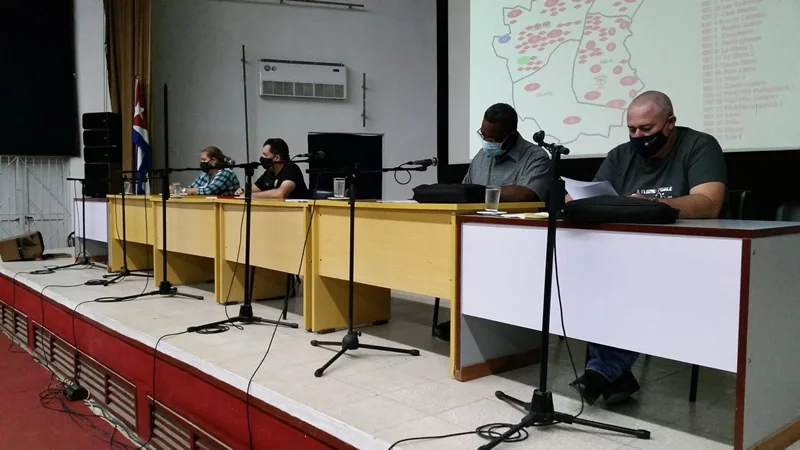 Camagüey, Nov. 25 - The call to diligently cut off the autochthonous transmission of COVID-19 cases in the Sierra de Cubitas municipality, as well as to increase the rigor of screening and vaccination procedures, was part of the analysis made by the Provincial Temporary Group this Wednesday.
At the meeting, which was attended by Ariel Santana Santiesteban, member of the Central Committee of the Communist Party of Cuba, and its first Secretary in the province of Agramontina, it was also reported that contagions were reported in 7 municipalities in the last closing, mention is made of Sierra de Cubitas, Guáimaro, Sibanicú, Nuevitas, Santa Cruz del Sur, Camagüey and Minas, which translates into 48 confirmed, of them 45 native and 3 imported.
Dr. Carlos Morán Giraldo, director of Public Health, said that around vaccination in the first dose there is an advance of more than 93 percent, in the second a figure higher than 86, and in the third dose in more than 80, and with a complete immunization scheme, around 84 % of the local population over 2 years of age.
For its part, the Aqueduct and Sewerage branch stated that it is working on the solution of an obstruction in Nuevitas and a larger one in Jimaguayú, which led to the replacement of about 200 meters of pipelines, therefore, the total repair will be guaranteed in the shortest possible time.
Yoan Varela Portuondo, president of zone 22 of the Model-Imán Popular Council, asserted that in the face of the appearance of more than 20 thousand specimens of the harmful giant African snail in the Avenida Micro de Planta Mecánica, the aforementioned land will be dredged, which has a small lagoon, will proceed with an intensive plating, and the harmful bio-transmitters will be eliminated.
This Wednesday, in the Provincial Temporary Group to confront the new coronavirus in Camagüey, recognition was made clear to the Public Health personnel, who, inspired by the legacy of the undefeated Commander in Chief Fidel Castro Ruz, ensures the protection of the people against the Sars-Cov-2. (Jorge Enrique Fuentes Ruiz / Radio Cadena Agramonte)
---
---
Comments
---
Your email will not be published *