By Jorge Enrique Fuentes Ruiz / Radio Cadena Agramonte.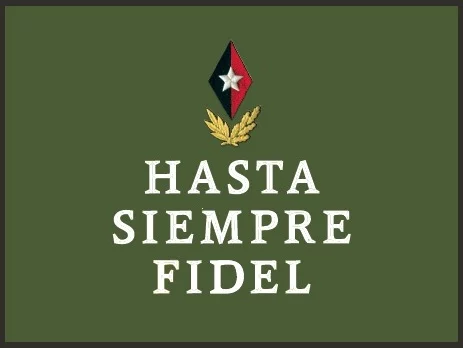 What a wonder to see these days my country get ahead. Faced with the high efficacy of Cuban immunogens such as Abdala, Soberana 02, Soberana Plus, among others, COVID-19 disappears.
My archipelago reopens its borders, the cities are filling with the popular bustle, and the streets are dressed in blue and red scarves towards a bright future.
Anyway, we welcome you to the "new normal." Faced with the joy of the population, the current month treasures a transcendental event that saddens us, but at the same time invites us to continue more vigorous in the battle.
The grateful ones commemorate this November 25 the fifth anniversary of the departure towards immortality of the undefeated Commander in Chief Fidel Castro Ruz. And there are many reasons to evoke it, as it is and will forever be the undisputed architect of our achievements.
Fidel has not died, as he did well with his life's work. And I remember it in the smile of an old man assisted by social assistance, in the thousands of lives that have been saved thanks to the brilliant humanitarian work of the Henry Reeve Contingent across the globe, in the hope of the summoned students in search of knowledge and personal improvement.
I feel it in everything that points to progress, I feel it in social justice, in goodwill.
Enemies spare no effort to discredit Fidel's beautiful and genuine legacy. Facing the onslaught of those who bet for Cuba to renounce its sovereignty, truth and reason accompany the people of Cuba, who, inspired by the historic Leader of the Revolution, grow every day by overcoming the ineffective blockade and many other challenges.
Therefore, so that Fidel is always present in us, and his imprint is more than memorable, palpable in each work, let us strive to be better students, consecrated professionals, revolutionaries full of optimism, tireless fighters, enthusiastic workers.
Fidel is Fidel, Raúl sentenced. And today, the worthy children of this land ratify the unwavering support for the socialist process, by making clear the defense of our conquests in the field of health, education, sports, communication, international relations, among other branches, and that these achievements are comparable with those of of the most developed nations of this also called blue planet.
Therefore, we say without hesitation that we will wear olive green forever.
---
---
Comments
---
Your email will not be published *