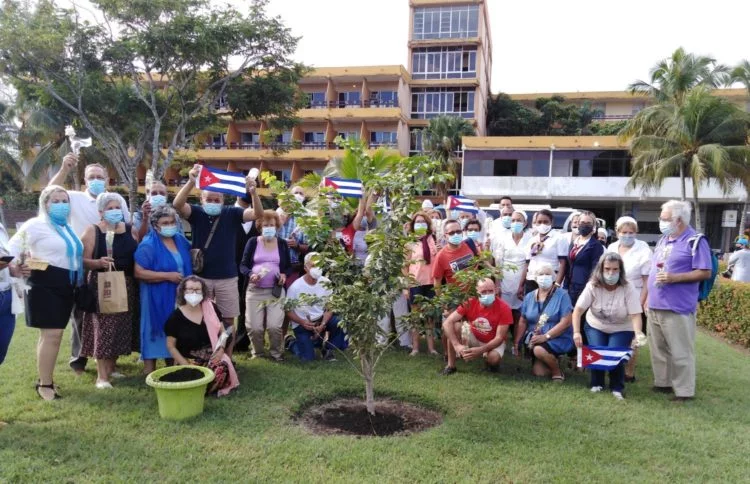 Camagüey, Nov 26 - On the fifth anniversary of Fidel Castro's physical departure and as part of solidarity and support for the Cuban social system, a score of members of the Portuguese Communist Party and the Portugal-Cuba Friendship Association paid tribute to the historical leader of the Revolution in an exchange with workers from the Hotel Camagüey.
From the Cuban East, in transit to Matanzas, they shared in the garden of the facility the fertilization of a Caguairán, that tree symbol of strength that is associated with the Commander in Chief and that for four years has grown in that emblematic center of the province.
Manuel Gloria, member of the Party and vice president of the Association of the European country, praised the man who knew how to lead the Cuban people in the construction of socialism and understood the role of imperialism as an enemy of the humble, "as we say in Portugal: Homeland or Death, Cuba will win".
Meanwhile, Brizlinda Márquez assured that she visits Cuba with great emotion to learn about the Revolution from the Sierra Maestra, and how Cubans continue Fidel's legacy in all aspects of social life.
"It is a very nice experience for me as a retired nursing woman who defends the freedom and justice of the peoples; and this Island is an example of this, as it is also in the emancipation of women, that is why we understand that it remains among us".
Accompanied by hotel workers and the Agramontina branch of the Cuban Institute of Friendship with the Peoples, she added that paying tribute to the Commander-in-Chief constitutes a privilege and duty for "all of us who want equality, as it becomes a paradigm for the defenders of the just causes".
These two representatives, on behalf of all the members, assured that five years after the physical disappearance of the revolutionary leader, his ideas and teachings live in the Cubans, and they ratified that from various parts of the world they continue the demand for the end of the economic blockade, commercial and financial imposed by the United States.
Members of the Portuguese Communist Party and the Portugal-Cuba Friendship Association also went to the Jimaguayú Room in the Plaza de la Revolución Mayor General Ignacio Agramonte Loynaz, the enclosure that kept the ashes of the Leader of the Cuban Revolution on the night of 1st. December 2016. (Text and photos: Gladys Dailyn Morera Cordero / Radio Cadena Agramonte)
---
---
Comments
---
Your email will not be published *